How circular economy works: A case study from BSH Nederland
Reading time for this article: 5 minutes
From sustainably refurbishing home appliances to helping the socially disadvantaged get permanent employment – learn how this pilot from BSH Nederland and Stichting De Kringloper inspires as an example of true circular economy.
Look around your home. There are probably products from all over the world, which bring you more comfort than any generation before you. This is definitely something for which we can be thankful and that we can celebrate, but it often comes with unintended consequences for our planet, its people and our finite resources. This is where new business models and system disrupting ideas are making waves like the inspiring cooperation between BSH Nederland and Stichting De Kringloper at the start of 2020. 

What started as a regular thrift shop ("kringloper" in Dutch) has grown into a Dutch NGO that is doing some fantastic work for its regional community of Roosendaal and is a testament of the circular economy's positive effects.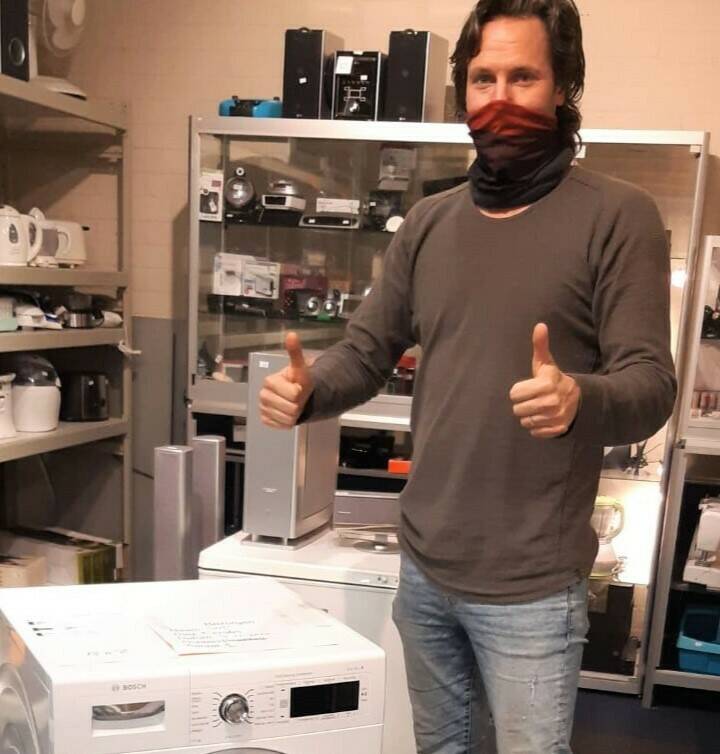 More than just collect and re-use
De Kringloper collects three and a half million kilos of reusable household items per year, but there is more to this story than just appliance collecting and re-use. Gerko Reurink, Head of Fieldservice for BSH Nederland, adds with a smile, "Selected appliances (taking into account age, quality and energy efficiency) are picked up, checked, possibly repaired and cleaned by volunteers and employees of this recycling organization, De Kringloper. This is done in a professional manner, using original parts and safety checks. On a regular basis, a BSH technician helps with ordering parts and giving tips if needed". 
The mission of our NGO is duel. On one hand we collect and sell reusable goods, on the other hand we invest in socially distanced training for people who have a labor market gap. We help them cross this gap.
- Robbert van Walsum, Operations Manager at Stichting De Kringloper explains.
Robbert van Walsum, Operations Manager at Stichting De Kringloper explains, "the mission of our NGO is duel. We say "voor mens en milieu", so for the environment and for people. On one hand, we collect and sell reusable goods, on the other hand, we invest in socially distanced training for people who have a labor market gap. We help them cross this gap by training, lessons and working in a normal setting throughout our company". Other companies and local government can then utilize the services of this workforce, which includes the socially disadvantaged as well as those with disabilities, mental illness or those who are not fit for a "normal job". 
Around 67% of the revenue that De Kringloper generates from its activities, and the refurbished or repaired devices/appliances that they resell, is invested right back into their training programs and people.
As a personal example, Robbert talks about Michel, "he came to us on a tricycle and he had just one goal: He just wanted to become a member of the team. We trained him for many years and he got a job in our Kringloper store. All Michel needed was some confidence and we could give him that confidence".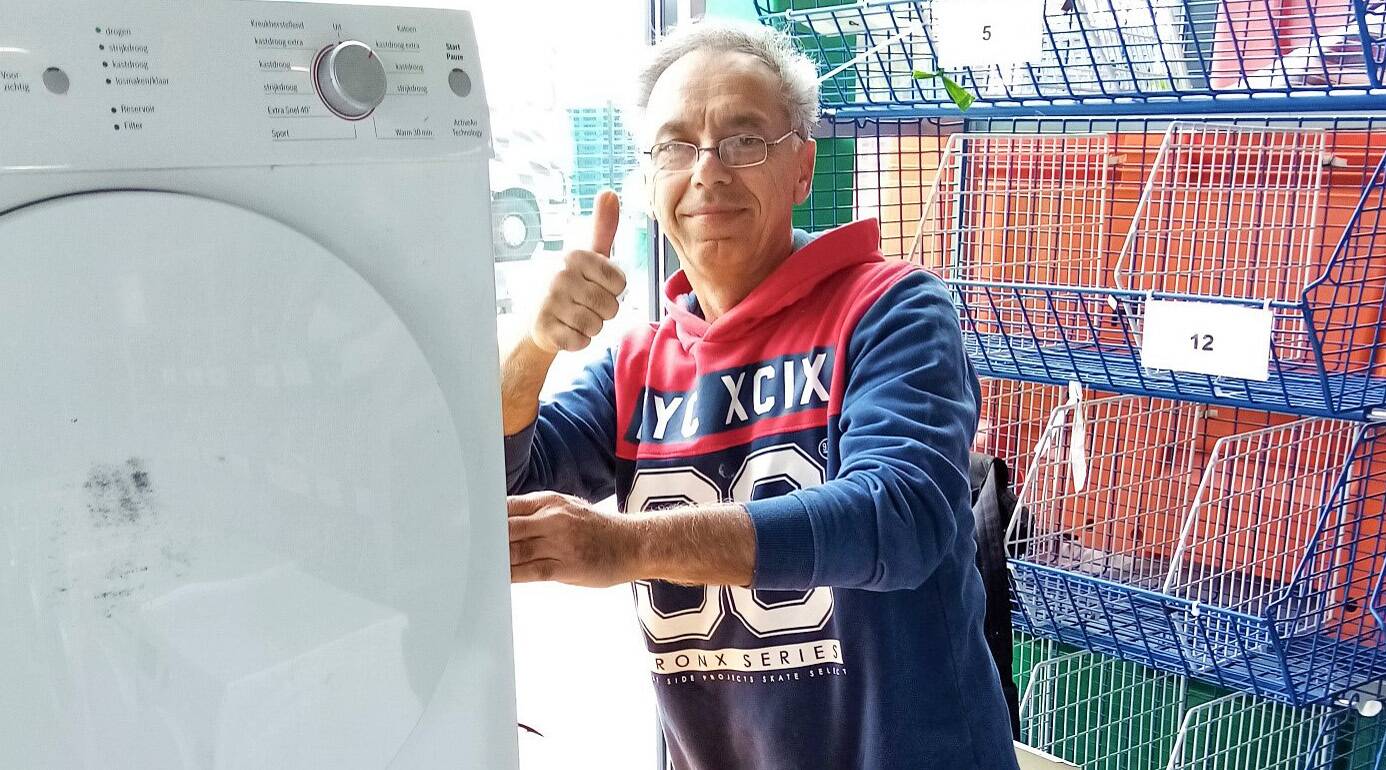 What it means to be the only certified Kringloper in the Netherlands
BSH was looking for a partner to collect and repair home appliances that would otherwise go to waste. The official association for recycling companies in the Netherlands, called BKN (Branchevereiniging Kringloopbedrijven Nederland), suggested De Kringloper, because they are the only NGO of its kind in the Netherlands. They are certified to handle electronic equipment under CENELEC standards (the European Committee for Electrotechnical Standardization) as well as WEEELABEX certification (Waste Electrical and Electronic Equipment Label of Excellence) which means that they can collect, repair and refurbish electronic goods and home appliances. 
"For example, if you dismantle 1,000 kg of electronic equipment the certification above states that you must have a set percentages post-dismantling, and you have to let them know exactly where it goes afterward and what the team there will do with it," says Robbert. This also makes them ideal partners for home appliances. 
"Working with BSH has several advantages," Robbert says, "the quality of goods from BSH is higher than the normal appliances we get: Consumers, who buy these machines, usually dispose of better machines. That makes it easier to repair and easier to check. So, the repair-rate is higher. We then resell those machines in our shop for very good prices, so people with less money can buy those durable machines with a year guarantee from us".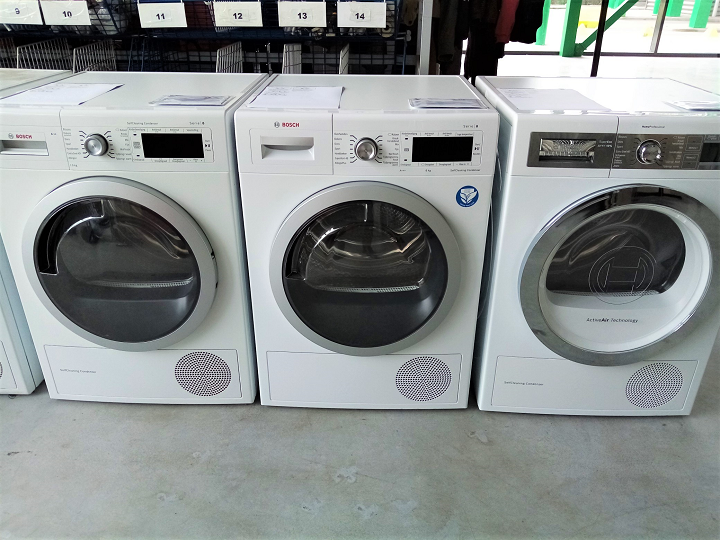 Poachers and other challenges in the waste-industry
"I've put a lot of effort into getting the right certificates. There are a lot of companies who repair without certification" and "we invest a lot of time in stakeholder management to show that we are a non-profit organization, but also that we are a professional partner and that you are creating chances for people who would have less chances – and that is worth something". 

"It is difficult to make people see that it's more than just waste-reduction, or just re-use, it's a story and that's why it's called an inclusive labor market. It's more than just jobs". 
The next challenge is that the "waste-market" represents value, especially for electronics. It fluctuates which means that there are collectors who try to get exclusive rights to collect said waste, but in effect simply harvest material from them and sell parts from appliances instead of trying to reuse or repair them: This causes a lot of waste and a headache for companies who are trying to reduce waste.
If only more people knew, why circular economy is important 
"People. Planet. Profit: The triple bottom line is what it comes down to. The population on this earth is growing rapidly and our resources are depleting more quickly. What we are trying to do is to prevent the new stuff being made and then thrown away really quickly. It's a bad thing. It costs a lot of materials. What a lot of people don't know is how much waste is being exported to 3rd world countries. They have beaches full of billions of kilos of dumped electric equipment. It has to change," Robbert says.
Many home appliances are still thrown away on local rubbish dumps without thought. This includes electronic equipment, some of which isn't even broken. "It's best to take it to the social enterprise so they can check it and perhaps sell it. Also, a lot of electronic equipment is just thrown away like normal waste. Like anything with a battery or a cord or an electric toothbrush - should not be thrown in the waste. "If you just throw it away, it cannot be recycled, it gets incinerated. Please don't just throw it in the trash".
 "If you just throw it away, it cannot be recycled, it gets incinerated. Please don't just throw it in the trash".
Talking to Gerko and Robbert made it clear how important these kinds of cooperations are to support circular economy and build a more sustainable manner of working with home appliances as well as supporting local communities. 
If you liked this story and would like to read about another sustainable project from BSH stay tuned, we are just getting started!