We've got work to do: BSH's commitment to sustainability
Reading time: 8 minutes
Carbon-neutral since the end of 2020 – all BSH locations worldwide now operate without leaving a carbon footprint. Find out more about how we achieved this and the targets for the following decade.
What we want: To improve quality of life by minimizing waste and pollution 
As part of our commitment to environmental sustainability, we are resolutely pursuing the minimization of our environmental footprint in all areas of our value chain. By doing so we want to prevent environmental pollution and climate change as best as we can. 
Our aim is to minimize the use of resources, emissions, and energy consumption: from sourcing and production throughout the usage to the return, refurbishment, recycling and reusing of appliances. Thus, we focus on two major issues: Minimizing our carbon footprint and using resources more efficiently by implementing a circular economy. Let's have a closer look at what we've achieved so far concerning our carbon footprint.
What being committed to reducing the impact of climate change means in reality
Since the end of 2020, all BSH locations worldwide operate carbon-neutral. This refers to the energy we generate ourselves and the energy we purchase for manufacturing and administration at our 90 sites i.e. factories, offices, warehouses and R&D centers. 

In other words, every BSH product developed and manufactured at our locations is done without leaving a carbon footprint behind. As a result, BSH's global activities do not have a negative impact on the climate. By doing so, we can directly influence the reduction of carbon emissions and make a big impact in a short time. 
We will, however, successively improve the quality of our measures. This is why we have set ourselves ambitious targets for the next decade.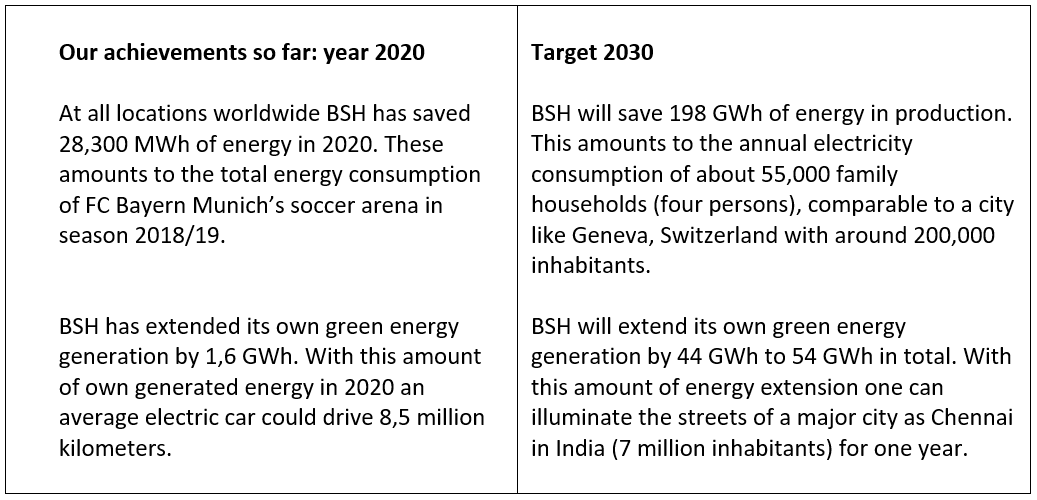 What comes next?
Having set all BSH locations worldwide carbon-neutral is, beyond a shadow of a doubt, a huge effort. But, we aim even higher and expand our climate-action to our indirect emissions as well. That is, purchased goods and services, business travel, and also the transportation and use of our products. Here again, we have an ambitious target: A 15 percent reduction of emissions by 2030. 
But how do we want to achieve this target?
On the one hand, our resource-efficient products such as the heatpump dryer, the Zeolith® dishwasher or the i-Dos washing machine will help us and our consumers to reduce carbon emissions. On the other hand, we want to amplify our efforts with strong partners. This means, that we will take an even closer look at our partners in the supply chain. The disclosure of the actual CO2 performance is very important for us.
Stay tuned for more information about our corporate initiatives and how we plan to follow through on our sustainability goals.