What do consumers really think about sustainable home appliances?
Reading time for this article: 6 minutes
Corporations gain more awareness of sustainability and its necessity. However, the recent European study by BSH shows that for many consumers sustainable home appliances seem to be a rather theoretical than practical matter. The study was conducted as part of a consumer-focused holistic restructuring of BSH towards a more sustainable business model and surprised with its results. Find out more about the differences between consumers' positions on sustainability in European countries:
The survey results illustrate a fundamental relevance of sustainability for European respondents and confirm BSH's long-standing approach as Europe's leading home appliance manufacturer to consciously assume responsibility in this area. For example, one of the results of the survey in eleven European countries* shows that two-thirds of Germans would like to do more to make their consumer behavior more sustainable, but 81 percent believe brands and companies have a responsibility to help them do so. 
Sustainability is a key component of BSH's business strategy, in which responsibility for the environment, society, and business success play a central role. Since the end of 2020, BSH has been manufacturing in a CO2-neutral manner at all its sites worldwide and is placing great emphasis on developing efficient and resource-conserving products. 
Sustainability as a factor in purchasing decisions
Four out of ten Germans say they pay rather strong to very strong attention to sustainability in their general purchasing decisions – this holds true for almost twice as many respondents in Italy (77%) and Spain (79%). However, sustainability is more important to Germans when it comes to household appliances (67%) than clothing (57%), mobility (53%), and furnishings (53%); only when it comes to food (72%) does sustainability play a greater role. As many as four out of five research before or during the purchase process how sustainable their new major household appliance is. BSH's portfolio of innovative, durable, and efficient products and services enables consumers to save water and energy. But BSH is deliberately taking this a step further: 
"In addition to reducing our CO2 emissions in the manufacturing process, we are also pursuing the goal of cutting Scope 3 emissions, such as those caused by the procurement of goods and the use of appliances, by 15 percent by 2030," says Christine Betz, BSH Chief Sustainability Officer.
Are consumers willing to pay more for sustainable home appliances?
BSH has always invested in research and development to drive sustainable innovations – most recently 5.1 percent of sales in 2020, totaling 798 million euros. BSH thus reflects the needs of consumers: durability and quality (81%), functionality (74%), and energy and water consumption (71%) are most frequently rated as very important by German participants when choosing a major household appliance. Two-thirds are also prepared to pay a higher price when buying their next major household appliance if it is manufactured in a more energy-efficient and/or environmentally friendly way than a cheaper, otherwise equivalent model. This puts Germany in the lower midfield. The lowest willingness is shown by Dutch respondents (61%), the highest by Italian respondents (82%).
In addition, there is a fundamental willingness to test new ways of using household appliances. For example, one in three people surveyed in Germany can imagine renting resource-saving household appliances. BlueMovement, BSH's home appliance subscription model for large household appliances, is thus an important step toward the circular economy: BSH retains responsibility and ownership of the appliances, repairs, and reconditions them after use for the next household, and recycles them at the end of their lives.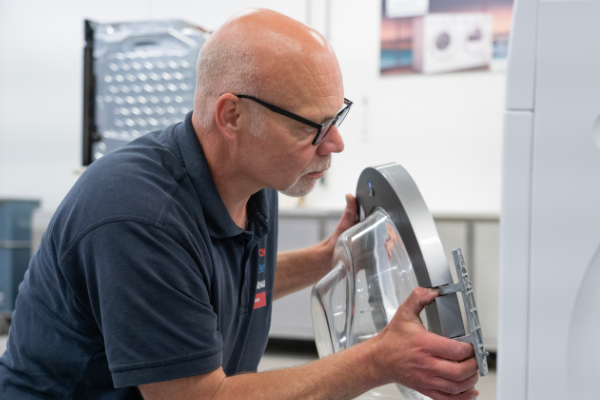 Do consumers feel the responsibility for efficient appliance use?
Despite CO2 savings in the production and design of efficient household appliances, the greatest impact on the climate comes from the use of household appliances and is therefore dependent on the behavior of individual consumers. Here, the study reveals gaps between attitudes and behavior. 
A decisive factor in minimizing the consumption of resources in everyday life is the utilization of the washing machine's laundry capacity. While 63 percent of Germans fill them to capacity almost every time, 15 percent do so only every second time, eight percent only every third time and ten percent hardly ever or not at all. However, Sweden brings up the rear in this category: Only 39 percent of respondents here say they use the maximum amount of laundry almost every time. Regular use of the Eco program can also significantly reduce environmental impact and electricity costs. Respondents from Spain and Italy generally use the Eco program most regularly. In each case, 68 percent use it for at least every second wash cycle of the dishwasher; for the washing machine, the figure is 65 percent of respondents in Spain and 63 percent of participants from Italy. However, only 60 percent of German study participants use the Eco program on their dishwasher for at least every second wash cycle, 54 percent on their washing machine. 27 and 31 percent, on the other hand, hardly ever use the program or not at all. 
Outlook on sustainability: Individual needs and smart households
Although energy and water consumption are relevant to 92 percent of Germans when buying a major household appliance, knowledge of the consumption of their own dishwasher is also rather low in a country comparison. 42 percent of respondents know this at least roughly – only respondents in Sweden (39%) and the United Kingdom (37%) fared worse, with Poland well ahead at 72 percent. BSH's Home Connect app already offers the option of adjusting the settings of networked household appliances to suit individual needs and provides tips on how to optimize resource consumption.
"The results show that the issue of sustainability is shaping people in European countries – especially regarding household appliances. However, we recognize a clear potential for optimization with regard to the more efficient use of these appliances in everyday life and see it as our mission to provide our consumers with even better support and information in this regard in the future," adds Christine Betz.
* The consumer survey was conducted in September 2021 in Austria, Belgium, France, Germany, Italy, the Netherlands, Poland, Slovenia, Spain, Sweden, and United Kingdom.