Why feeling represented at work matters
Reading time for this article: 6 minutes
Learning about diversity and inclusion from peers, exchanging experiences, and growing together as teams – these were but a few goals of BSH's Diversity Week in July. This virtual event was organized by colleagues for colleagues who wanted to change their work environment for the better.
The interactive workshop "Representation matters" was held by our graduates from the Global Graduate Accelerator. Cristina Montanes Oroz, Obinna Uwa, Karolina Gorecka and Jenny Kleeblatt teamed up to create a safe space to talk about the importance of feeling (under)represented and the possibilities of changing that. We asked them for their insights after the successful workshop session:
We love and support the clear message of your workshop title "Representation matters!". Could you explain what representation means and why it matters?
Representation for us has many aspects – everything from physical appearance to character, behavior, mindset, special needs, and so forth. When people see themselves represented, they feel encouraged and visible. Thus, it leads to more equality. 
How did the workshop come into existence?
As a group of Global Graduates, we've been working together for the entire year on many different topics. After our manager approached us with the opportunity to present a chosen topic during Diversity Week, we all knew we wanted to participate. We organized brainstorming sessions where we came up with many different topics that were personally important to us. After discussing with the team, we realized that representation, a topic suggested by Obinna, was the one that we wanted to address first. 
Do you want to share your personal motivation for organizing the workshop? 
We noticed that each of us felt underrepresented in certain fields, and we wanted to share the importance of this with our entire organization.
How is the workshop structured and what activities and exercises did it contain?
It was very important for us for the session not to be another lecture after a year spent in front of the computer screen. We really wanted to make it interactive and to foster the exchange between the participants. We wanted to find out if our colleagues also felt underrepresented in different aspects of their lives. That's why we started with a warm-up game to get to know the backgrounds of our participants. 
We were curious to find out what representation means to our listeners. So, we shared an interesting video of young people talking about on-screen representation and we went deeper into the topic covering different fields like education, careers, and gender. 
Next, we wanted to find out how represented the audience feels in general and in the work environment – by collecting the experiences in a poll to compare them. The results showed that none of the participants felt represented all the time in their daily lives. And in the professional world, there were particular aspects that almost half of the participants felt not represented by: for example, gender, personality, age, and lifestyle/hobby. 
What activities did you try out in the workshops and what were the results of the exercises and discussions?
We collected spontaneous thoughts that came to mind of the participants when they heard the word "representation" – we wanted to know if people see that there is more than one aspect of representation and that it can come in different forms. The result made us happy as most of the participants shared so many different aspects and we knew that it would be a very good base for sharing further experiences. 
With the polls, we wanted to understand what the attitude of the audience towards their personal experiences is. We asked simple questions and shared the results with everyone. The results were very diverse, and it made everyone aware of how important the topic of representation is.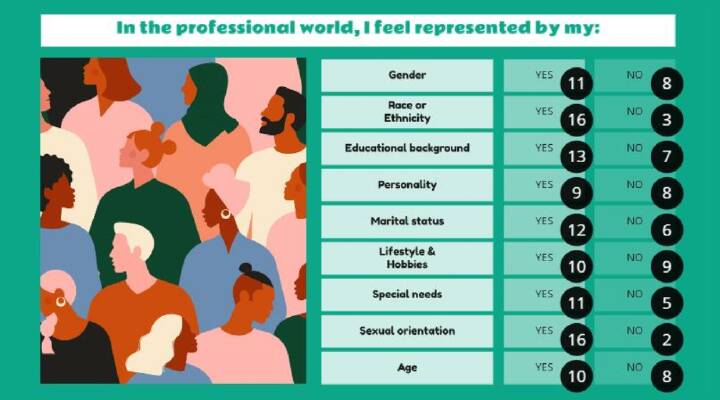 Our next and last activity involved inviting participants to share stories from their life when they felt underrepresented. We were overwhelmed with the response we received – we listened to so many incredible stories that moved us and ensured us that we need to take further actions so that there are fewer and fewer feelings of underrepresentation. We felt that this session was the first step towards it. 
Did you face any challenges or biases during the preparation of the workshop?
The challenge we faced was mainly the timing – as we set a session to be no more than 60 minutes, we found it difficult to fit all the aspects we wanted to discuss with the audience. Preparing the workshop made us realize even more how deep the topic of representation is. We also struggled with coming up with the right activities to make the audience feel comfortable and encourage them to interact. 
Did anything that has happened during the workshop surprise you? 
We were very surprised with how open the people were and how willingly they shared their stories. We were also not expecting such a big interest in the workshop, so many people appeared and interacted with us. And we did not expect the intensity with which some people formed connections during the experience sharing part as they related to each other's stories. 
Do you have any examples of good representation that you came across recently? 
We are very proud of our Global Graduate Accelerator program. We are a very diverse group of 11 people coming from 8 different countries, fairly split between gender and interests' background. Because of this, we feel like we represent so many different people and experiences.
Coming back to our question about the meaning of the term "representation", let's talk about it in the professional context: what does it mean to you at your workplace? 
It means that each team should have a diverse group of people, diverse in gender or ethnicity and also in personality, special needs, and age so that each person can have a feeling like they can be a part of this group. It also encourages external people to apply for the position if they know that the team contains a person that they can relate to. We also think this would encourage equal opportunities and help reduce unconscious biases. Diverse groups foster productivity, as proven by research. 
Do you have any tips for people who want to educate themselves on the topic? Or for people who want to advocate the topic in their working environment?
People should feel encouraged to speak up. They need to have a feeling of safety to talk about their stories. Even though people do not feel represented in the first place they can step up and be the example so that other people can feel represented. 
We noticed during the workshop that sometimes being the representative feels like a lot of responsibility and sometimes it can scare people. We think it is important that representation would be associated positively. Open communication is extremely important in this aspect – we need to foster it because sometimes, when you feel underrepresented, it is enough to open up to a person and they might feel the same way and it creates a feeling that you are not alone.