Feedback at BSH – tools for a constructive dialog
Reading time for this article: 8 Minutes
Finding solutions in teamwork can be hard without an established feedback culture. That's why, lately, this term developed into a corporate buzzword; but what does it actually mean? BSH sees feedback culture as a strategy that incorporates not only dialog within a team, but also concerns other levels of interaction within the company. So, in which ways does BSH foster its feedback culture? We asked Christina Hilgers, Inmaculada Perez Muñoz and Keqing Lin, who are part of BSH's Feedback Team within the Global HR department Employer of Choice, to share their insights and experiences with us.
What does feedback mean to you? 
Christina answers: "To foster positive relationships, we rely on feedback as a really powerful asset. It supports our learning processes and helps building a good work atmosphere. Through feedback, we learn how other people perceive our behavior (e.g. working style, attitude). Thus, we broaden our perception, as well as, foster self-awareness, increase the effectivity of the way we behave and communicate with each other.
Receiving and giving feedback is not easy, as we are talking about individual opinions and emotions. For this reason, feedback often has a negative connotation and many prefer to avoid it, although it can be a real gift. Hence, we have to ensure a good feedback culture by working together and making use of provided trainings and guidelines, so colleagues can share honest and constructive feedback with each other – regardless of their position." 
Why is feedback so important at the workplace? Which effects can it have within a company?  
Christina explains: "In today's fast-paced working environment, we all have to deal with many quick changes. It can be very challenging to adapt our tasks and processes to ever-new circumstances, and to regularly adjust our goals and set new ones. Additionally, the tasks and processes we work with become more and more complex. Getting to know different perspectives through feedback, helps us to make these important adjustments and cope with complexity.
As studies show, people who ask for feedback are indeed more effective than others since they become more self-aware. Getting insights into your blind spots, strengths and developments helps to identify new potentials for development or even opens up new career paths."
How is feedback culture integrated in BSH and what are the benefits for everyone involved?
"Feedback is really important for BSH, therefore it is one of our 10 We LEAD BSH principles", answers Keqing. "We encourage feedback culture by providing several tools and trainings on how to give and receive feedback. Of course, tools cannot make it alone – everyone of us is in charge of making feedback a part of our daily lives since open and honest exchange is a significant way to detect issues and improve something. We have to understand that only together, we can shape our company's feedback culture of tomorrow." 
BSH has developed diverse feedback tools. Which are the main offers the company provides to its people to foster feedback internally?
Inmaculada states that there are three feedback levels at BSH: individual, team and organizational feedback." BSH offers different tools and methods for each level, adjusted to different target groups, aims and situations. The organizational feedback, e.g. in form of the yearly BSH Employee Survey, is aimed at actively shaping change within the company, creating transparency of the things that need to be improved and identify and preserve positive achievements. 
For individual feedback for employees, the main tool is the yearly Employee Development Dialog (EDD). It is a mandatory, constructive feedback dialog between manager and employee with the aim to support the employee's development and achievement of professional goals. For managers, we offer special leadership tools like the 360° feedback. With this tool, you receive feedback from different perspectives – employee, supervisor, peers and yourself. The Team Development Dialog (TDD), on the other hand, is an open dialog with the whole team in which the team's mission and potential team development are in the focus. Based on the team's needs, the strengths and development fields of the individual team members are evaluated and development measures defined."
"Feedback is a gift" is more than just a saying at BSH. Can you please explain what it is all about?
"Feedback is a gift to give. This means, we should give it kindly, with respect and with a positive intention", elaborates Christina. "But also: Feedback is a gift to receive, thus we open it carefully, take it with respect, and thank the giver. If we think about feedback in this way, we can open the doors to constructive suggestions – and find a variety of ways to run our operations better. 
Giving feedback in an appreciative and effective way is a skill that needs practice but is worth it. I recommend participating in our "Feedback is a gift" training with the whole team to create a common understanding of feedback and a shared commitment how to deal with feedback within the team. The aim is to create a trustful feedback culture by raising awareness about the potential and options of feedback."
You are introducing and practicing the "Four Step Feedback Method" within the training. According to this method, what is a good way to give and receive valuable feedback?
Inmaculada explains: "This method is based on Nonviolent Communication by Marshall B. Rosenberg. It advises to give feedback in four steps: First, you state what you observe, neutrally and objectively, without evaluating this observation. Secondly, you describe the effects this behavior has on you. Thirdly, you explain the relevance that this has for you and express your needs. And in the final step, you describe the change you would like to see, thus making your wish clear without demand."
When it comes to receiving feedback, it is important that the receiver recognizes the effort and the good intentions of the person providing the feedback and to be grateful for it. The receiver should carefully listen to the feedback, without defending, and try to understand the other´s perspective. 
The receiver's reaction is the key factor: It makes or breaks the lived feedback culture."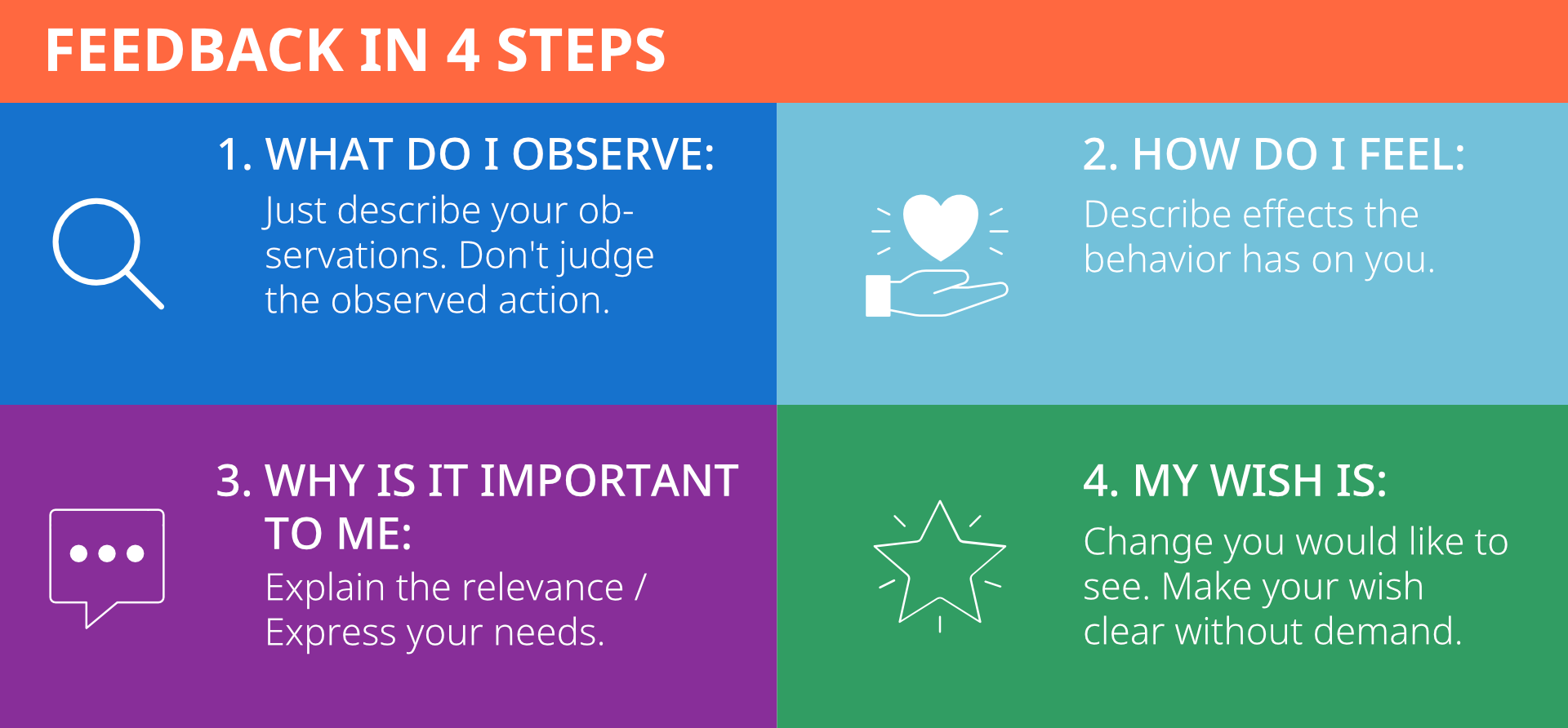 How does receiving feedback influence your work and did it change during the digital teamwork in lockdowns?
Keqing states: "To me, an open feedback culture is even more important in these challenging pandemic times in order to stay connected with my colleagues and build trustful relationships. Virtually, there is a lack of feedback components such as nonverbal feedback or a brief exchange in the kitchen. I am grateful when I receive brief feedback from my colleagues in my day-to-day work, for example after a presentation. After the annual development meeting with my supervisor or feedback from colleagues, I notice a real boost in my motivation! In addition, cooperation in my team has benefited enormously. I feel valued for both my work and myself and know better how to act in the future."  
Fostering an open feedback culture is only one part of the department's holistic mission to be the "Employer of Choice" for the best-fit talents – and probably for you, if you are not yet part of the BSH team. In order to ensure that BSH is an attractive employer for everyone along the whole employee journey, the department is also responsible for other global topics like Diversity, Equity and Inclusion, Health at the workplace, our talent management program "TALENTIFY"  and our trainee program "Global Graduate Accelerator" – check out these areas for further insights into the working environment at BSH.