Get started as a trainee – remote at BSH
Reading time for this article: 5 minutes
Mastering the plunge into an early career as a trainee – no problem at BSH! We asked our trainee Rahul Bhatia, how he experienced the start of the Trainee Global Graduate Accelerator and what helped him the most while working mobile. An interview about chances, challenges and remote teamwork – read more.
Starting a trainee program remotely – a challenge or an opportunity, or both? What would you say? 
I would say starting a trainee program remotely is both a challenge and an opportunity. But I see it more as an opportunity than a challenge. On the one hand, you have the world at your feet with this huge chance to learn and perform at one of the largest multinational organizations in the world. On the other hand, your actions are restricted to some extent due to remote working in pandemic times.
It is challenging because as a trainee, you learn the most when you are surrounded by experienced colleagues at the office, who are constantly supporting you and helping you adapt to your new environment and responsibilities. However, this challenge is easier to overcome when you have colleagues that are constantly looking out for you and making you feel at home like at BSH. 
How was the trainee program planned and what changed due to the pandemic?
At the start of the program, it was planned that we choose three projects, one in the headquarters, one outside the headquarters but within Germany and one in a foreign location. There were also some trainings planned, for which we needed to travel to locations near Munich. However, due to the way the pandemic situation developed, it was not possible to have these trainings on-site. Nevertheless, it was quickly adapted in a remote manner that helped us to experience these trainings and still learn through them.
We are still able to experience all the planned locations including going abroad within Europe, which is fantastic considering the current situation.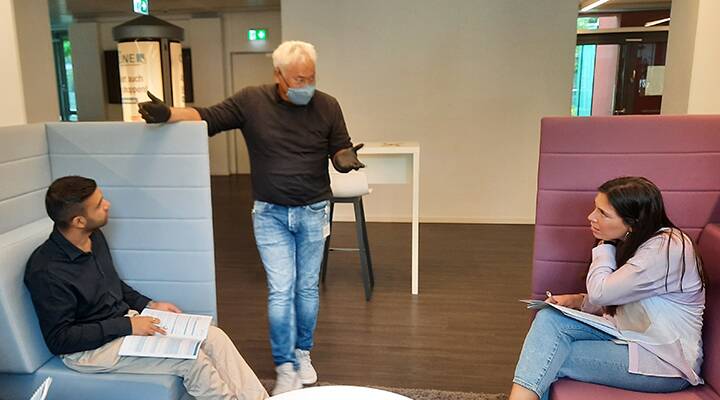 You come from India and worked in Poland before you moved to Germany for the Global Graduate Accelerator. Can you tell us a bit more about moving during the pandemic?
At the time I moved from Poland to Germany, it was summer and the situation was a bit more stable. However, there was a lot of uncertainty related to traveling and crossing borders as every country had their own specific rules and protocols. Finding flexible transport options was a big challenge due to the reduced number of transport facilities and there was strict controlling at the borders. When moving to Germany, the rules regarding daily life were also different.
Restricted social life also meant that exploring the surroundings and connecting with people in the area I lived was a challenge. Fulfilling the basic requirements such as registering in the town hall, opening a bank account etc. were also delayed a bit due to the limited number of working hours for such services. Overall, one needs to adapt very quickly and stay very flexible when moving to another country during such times.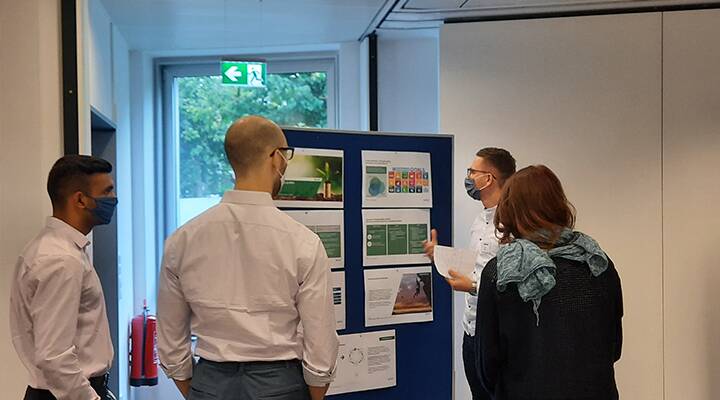 What do you think would have been different if you started your trainee program not in remote mode?
If the situation would have been normal and we would not require remote working, then it would have been easier to create connections with colleagues by spending time with them during breaks and getting to know each other.
Working at the office also helps to ask quick questions while you are just walking to a meeting room together with your colleagues or just sitting at your desks across each other. This part of communication becomes a little bit tricky. This would have been completely different, if we would not be working remotely.
Is there something that works better than you would have expected it to concerning remote work?
I think working remotely makes you more independent in terms of finding solutions. In the longer scheme of things, I believe it is more effective to search and learn by yourself as this helps you to know about your queries in much more detail and create your own solution, whether it is related to technical solutions or business related solutions.
Furthermore, you have additional time as well as energy left at the end of each day due to no travelling which makes you more focused and productive.
How did you and your trainee colleagues achieve some kind of connection although you barely see each other?
Our trainee group for this intake is a tight-knit family even in such times due to the fact that we have organized some virtual events such as trivia game nights and dinner events where we prepared new dishes from different cuisines together virtually. Also, once a week we work in our trainee teams on the trainee project, which allows us to spend more time together and connect even deeper while working together.
Furthermore, every week we have a virtual coffee talk, wherein all of us discuss about our work, share our thoughts and solve any issues that we come across during a week in order to be there for each other. Such activities have ensured that we develop a bond not only with each other, but also as a group. This is really crucial in times of remote working. 
How did BSH help you to start your new job 100% virtual?
BSH has made it possible to work 100% virtual as a trainee. BSH has provided all the necessary equipment needed to work remotely. Not only that, we have also been provided with additional tools to make the experience even smoother.
The colleagues at work are also very supportive and understand the fact that working remotely means facing technical issues along with disruption in the internet at times. Additionally, BSH has organized several virtual seminars and workshops to aid us in working virtually. 
Is there something we could do to improve your experience as a trainee in these difficult times?
No, not really. I think we have been provided everything to settle smoothly into our new environment and perform to the best of our abilities.
Do you have any life hacks how to stay motivated by yourself during remote working hours?
Personally, I feel it is very easy for me to be motivated for work every day, even though it is remote. I prefer to dress as if I was going to work which creates the feeling of being at the office. I also believe the activities you do outside working hours help a lot to be productive during remote working hours and recharge your batteries. I like to watch sports and also increase my knowledge about astronomy. Trying to cook new recipes is also interesting for me.
Moreover, it is important to maintain contact with your friends and family regularly through video calling and spending time with them while having meals or doing any other activity. Such things after work hours help me to reenergize myself and feel ready for every day of work. Moreover, every day at work is a new challenge and there is so much to learn from every single responsibility at work. This in itself is the biggest motivation for me to be ready for work each day, irrespective of the fact that it is online. 
How do you manage to separate your working space and your personal space in home office?
I do not have a separate work room at my place. So I work at the desk in my room and once I am done with my work, I pack my work equipment back in the drawer in order to give my room a more personal feel.