This year's IFA - the world's leading trade fair for consumer and home electronics - takes place as an in-person-event with in Berlin again. This is the perfect occasion for BSH to present its innovative appliances, services and intelligent technologies from all product families and to showcase its Bosch, Siemens and Home Connects brands as well as the new Solitaire brand from September 2 to 6. In the following, we summed up the highlights:
Bosch Home Appliances
For all those who want to be more sustainable in their use of energy and resources, but also more mindful of how they treat themselves, Bosch will be presenting a variety of new options at IFA 2022.
New, extremely efficient premium washing machines and dryers
Washing machine in energy efficiency class (EEC) A
State-of-the-art i-DOS dosing technology with new detergent scan
Iron Assist to easily remove wrinkles from fabrics
New Mini Load option for economically washing small loads
Access to numerous extra features when connected to Home Connect, e.g. communication between washing machine and dryer for optimized program selection, downloading of additional programs, personalized notifications
New Series 8 premium ovens with Steam Function Plus
Healthier preparation methods, better preservation of vitamins, better nutrition, stress-free cooking and eating, all thanks to Steam Function Plus (steam cooking at up to 120°C)
Healthy deep-frying with the new Air Fry function
Improved sensor technology for more precise cooking, including cooking time prediction plus additional support from the Home Connect app and a new camera in the oven
Series 8 ovens from Bosch in a new design with a digital control ring and large TFT touch display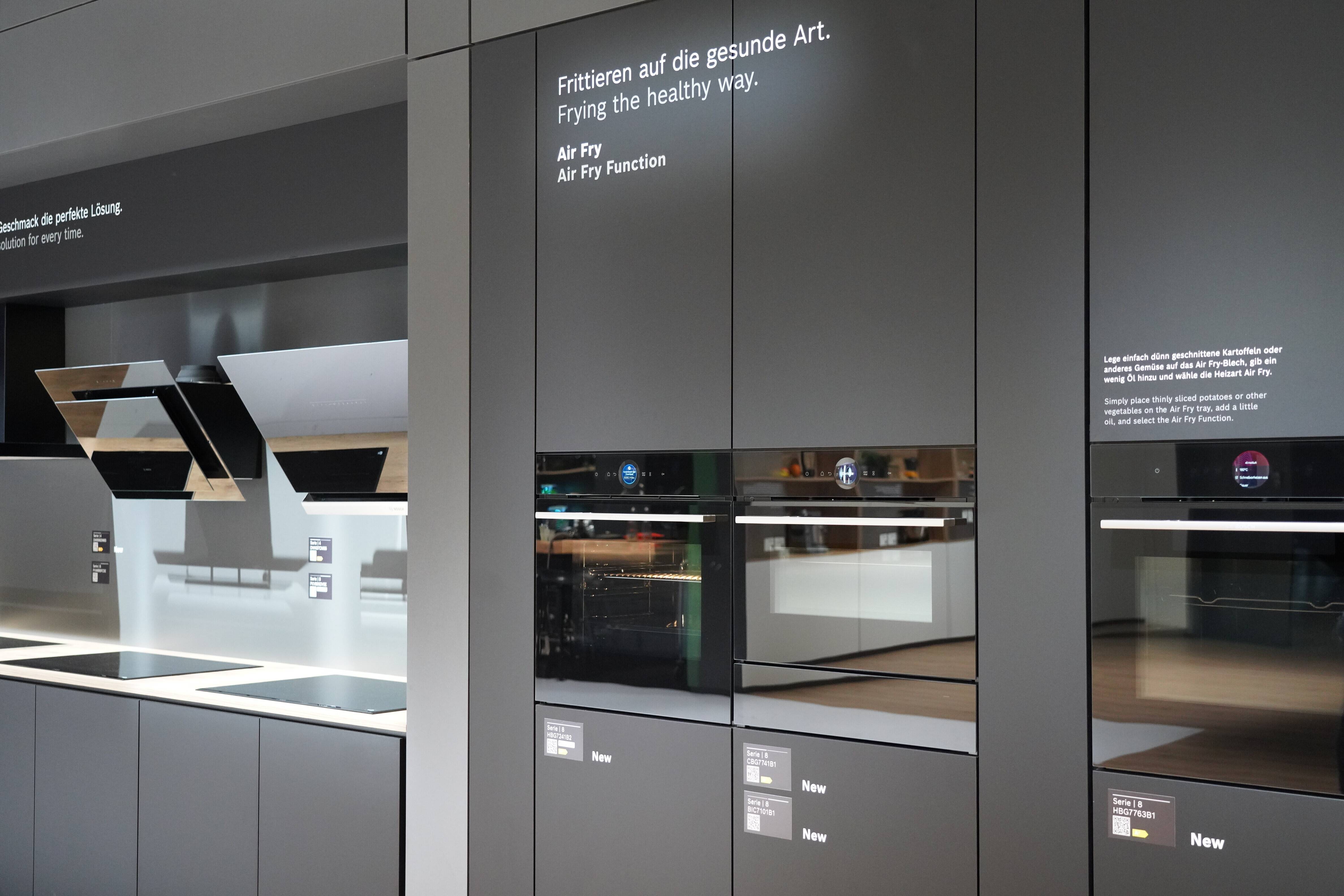 New, extremely sustainable fridge-freezer
Higher percentage of recycled and eco-friendly produced materials helps households to reduce their carbon footprint
33 percent less carbon emission of the material due to the replacement of conventional materials with recycled, low-carbon, or carbon-neutral alternatives (e.g. green steel, bio-based plastics, and foams)
Made from 27 percent recycled materials in total


New Bosch Unlimited 7 ProHygienic Aqua is a vacuum cleaner and mop in one
2in1 DynamicAqua enables simultaneous vacuuming and mopping
Removable 250 ml fresh water tank
Automatic water dosing: mop pads are always moistened with the right amount of water to effectively yet gently remove stains
Powerful TurboSpin motor
Unlimited flexibility thanks to foldable tube, convenient storage handle, self-standing function, and nozzle foot release
As part of the Power for All Alliance, the battery is also compatible with many other devices from Bosch and other brands such as Gardena, Wagner or Rapid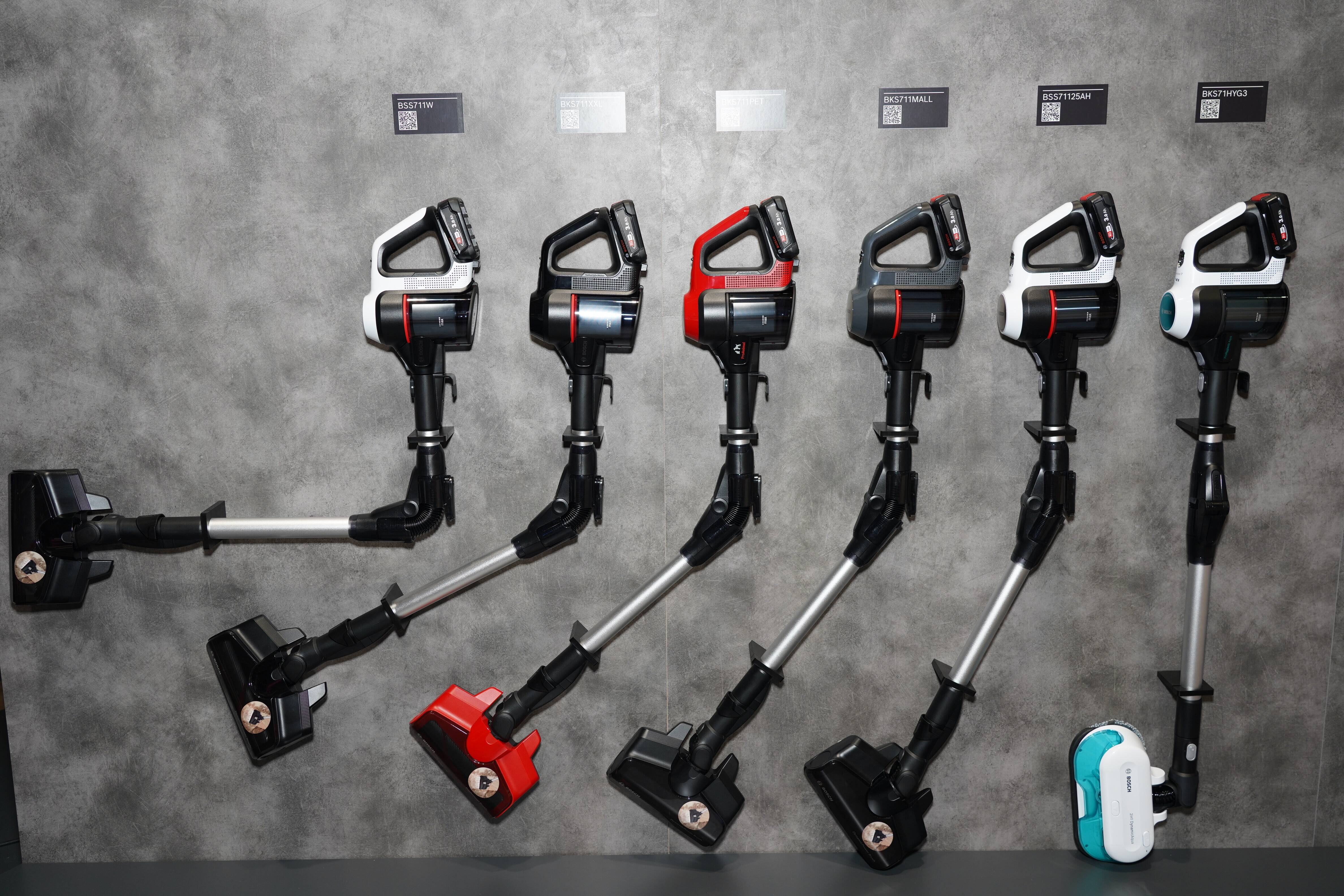 New Bosch ErgoMaster Series 6 hand blender
Dynamic speed control Extra large lever for all speeds
Integrated switch-on lock: Easy unlock for effortless one-handed usage
Performance drive F High-performance motor delivering up to 1200W incl. effective air cooling to ensure less overheating – with 10-year motor warranty.
QuattroBlade System Pro Extra sharp 4-bladed stainless-steel knife with flow boosters for optimal flow and superior blending performance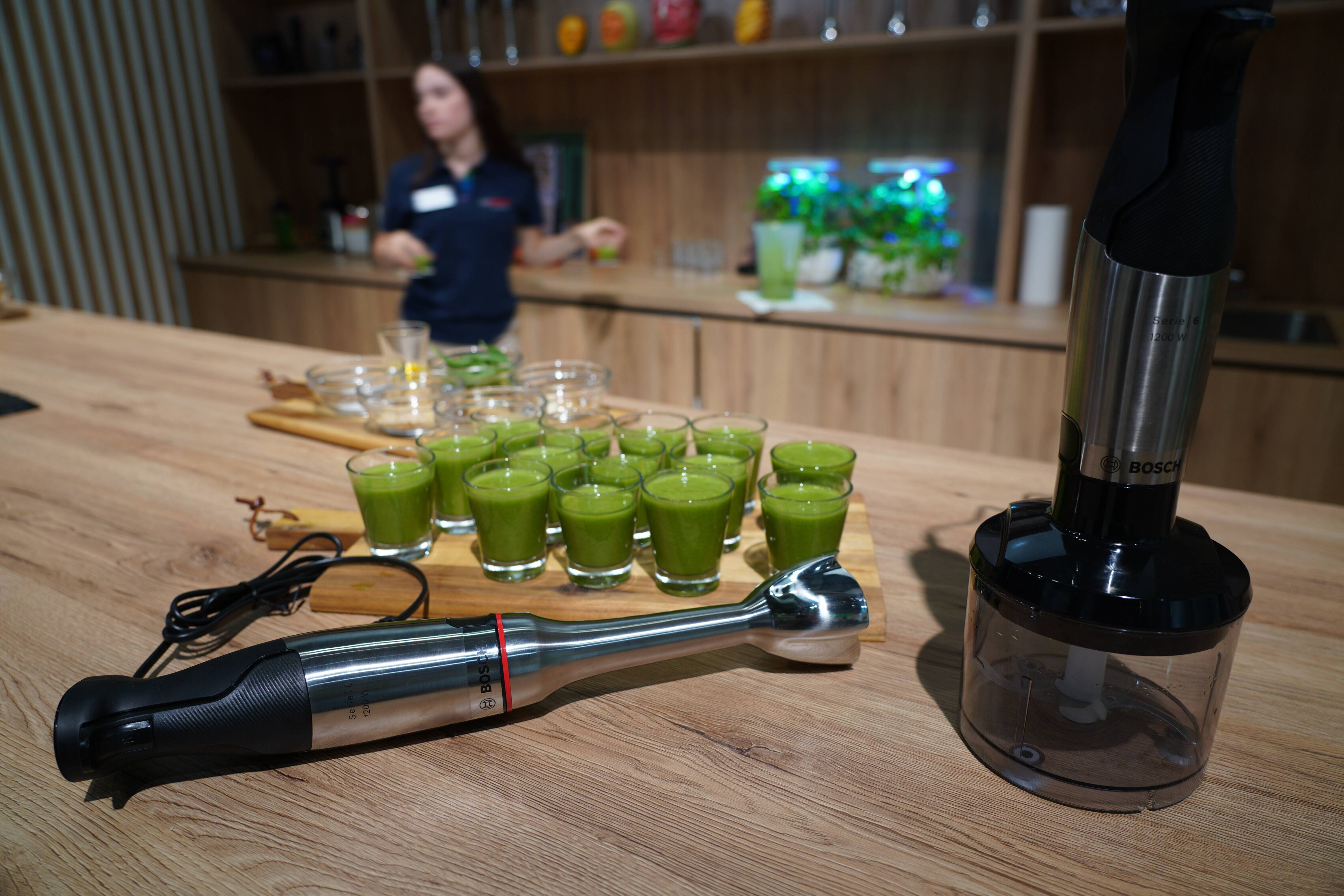 The smart kitchen comes to life with the Smart Kitchen Dock
Our global brands present the Smart Kitchen Dock – a voice-first smart display specifically for the kitchen. The device is a smart speaker that turns into a smart display to bundle a variety of functions from Amazon Alexa and the Home Connect ecosystem.
Touchless cooking with gesture control for recipe apps (in combination with the user's tablet or smartphone).
Seamless integration of Amazon Alexa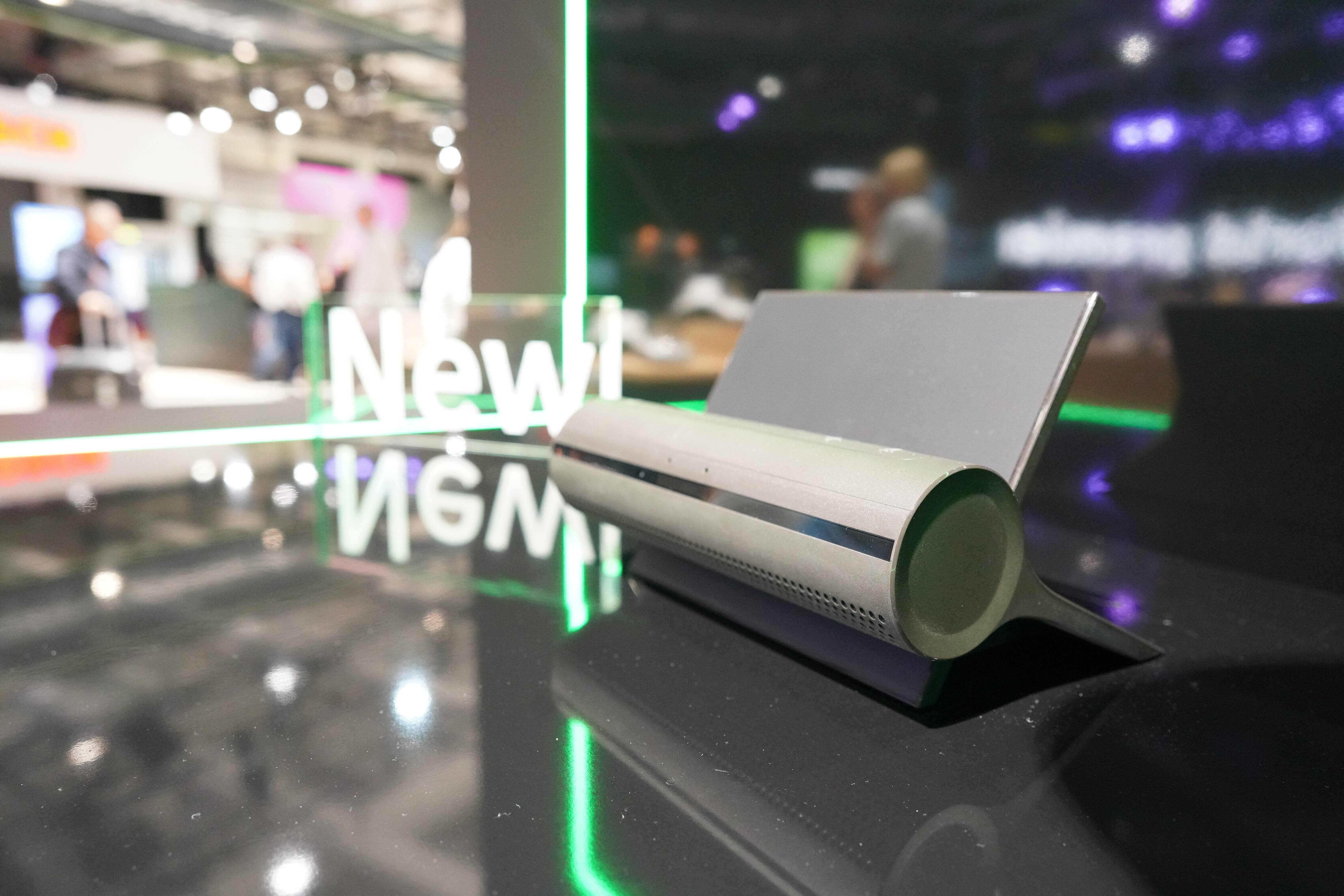 Solitaire – The Waterbase
New appliance category from BSH brings more design into the kitchen area.
Up to six different types of water are instantly available at the touch of a finger (still water chilled to room temperature and ice cold chilled, sparkling water in classic and medium sparkling strengths, approx. 80 °C hot water, and approx. 100 °C boiling water)
Integrated water filter for the highest quality
Faucet can be moved 170°
Operation via flush-mounted touch display
Drying compartment for dishwashing utensils, fast access compartment for detergent, soap and similar items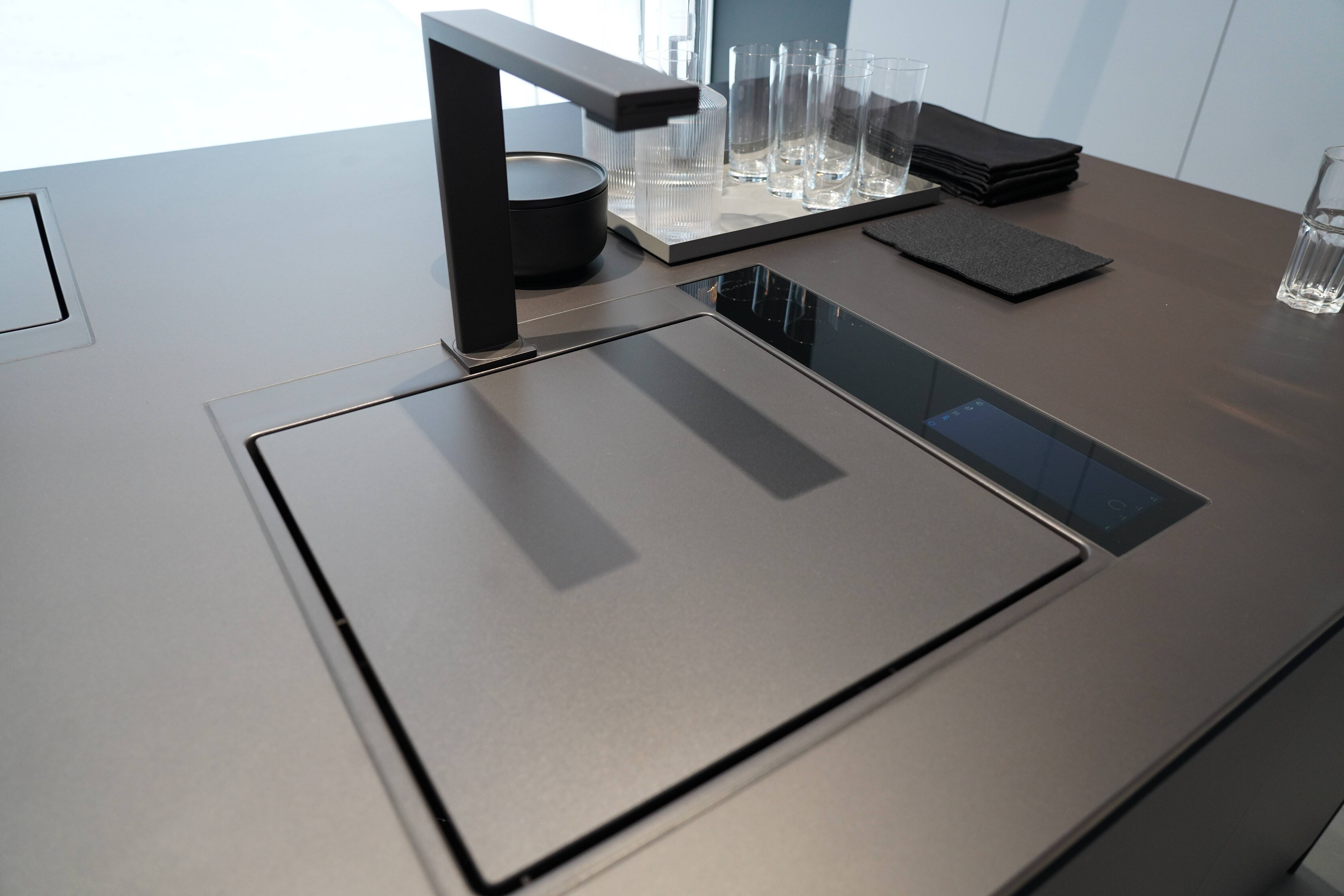 Siemens Home Appliances
On the new trade fair booth at this year's show, Siemens Home Appliances impresses visitors with a sharper profile and a fresh look. Taking its inspiration from New York's High Line Park, the new trade fair booth merges large areas of green with generous spaces ideal for a leisurely stroll.
New iQ700 washing machine and dryer
10 kg appliances with energy efficiency class A.
Connected i-Dos precision dosing system that saves detergent and water
With detergentScan in the Home Connect app, i-Dos adjusts precisely to the detergent used
Additional option for quickly freshening up wrinkled clothes
New Mini Load option for fast, water- and energy-saving cleaning of small laundry batches
iQ700 dryer now with varioSpeed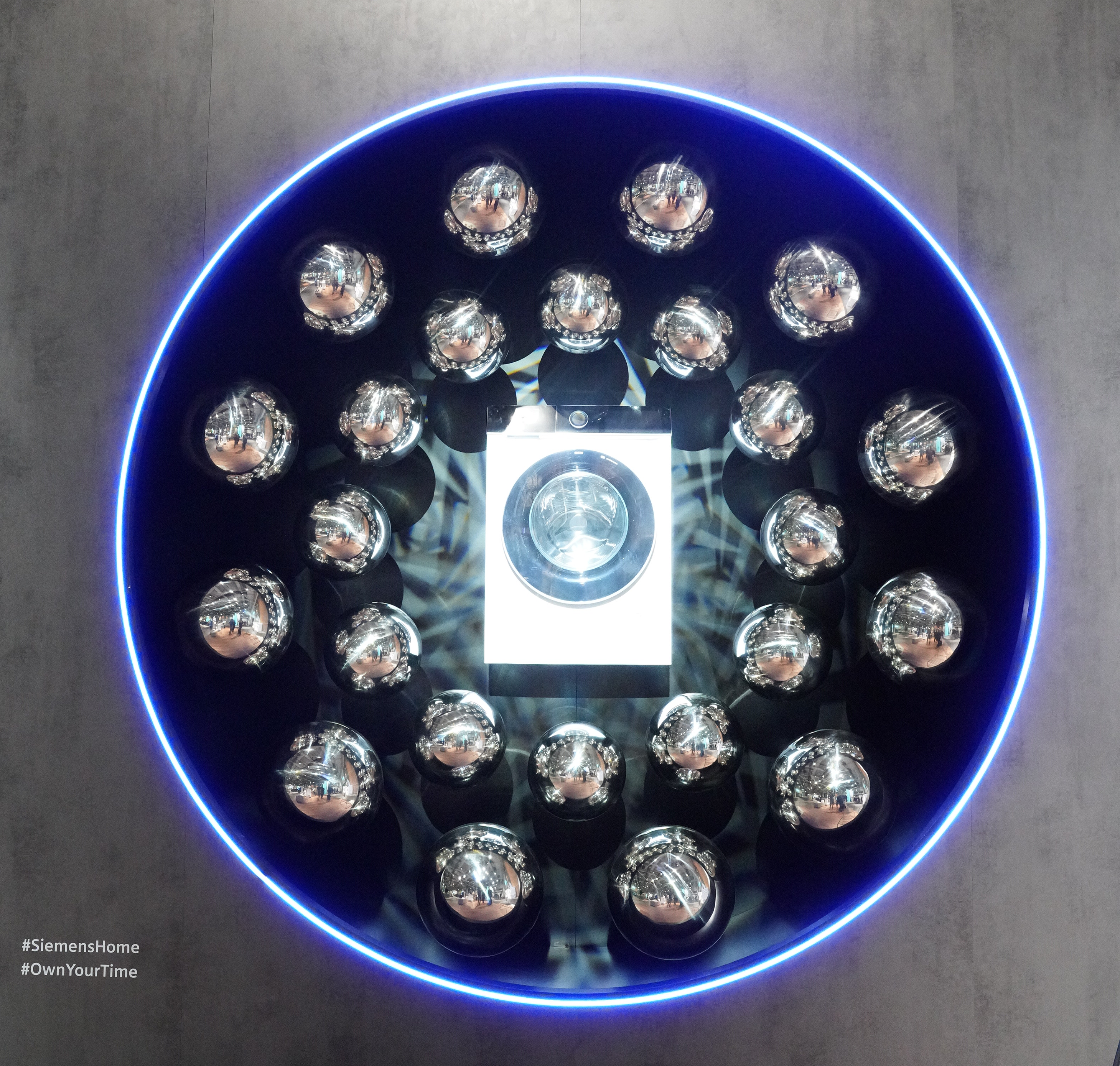 New iQ700 series of built-in appliances
First series of ovens that use intelligent algorithms to adapt baking and roasting results to personal preferences
Expansive surfaces of dark glass contribute to the calm and elegant lines
Operation via generously-sized and high-contrast full-touch TFT display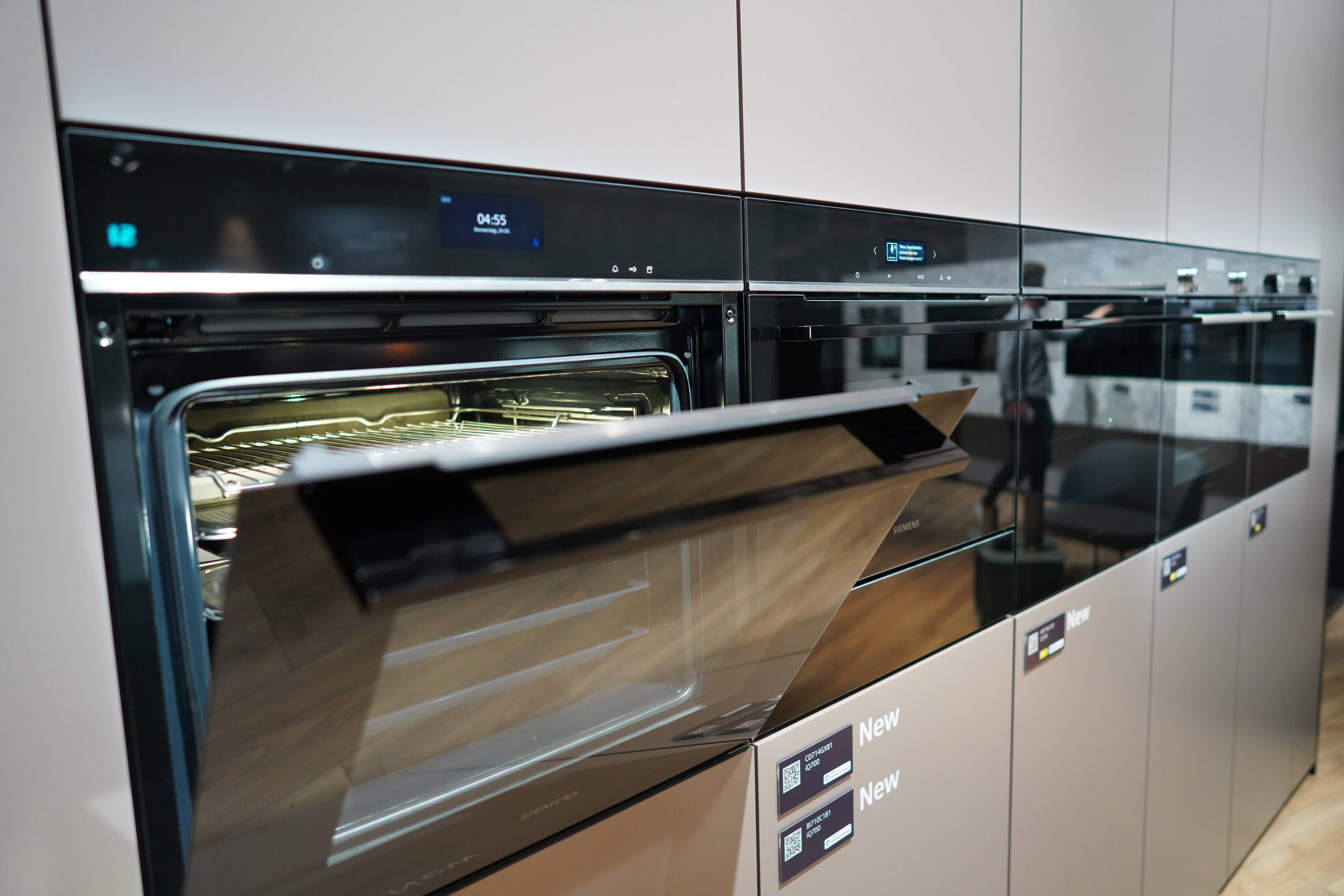 New EQ900 fully automatic espresso machine
The baristaMode allows the user to additionally adjust all brewing parameters
The beanIdent technology automatically identifies the optimal settings for all brewing parameters for the coffee bean the user has chosen
Two bean containers with one eGrinder each leave users full flexibility to always enjoy the original taste of their favorite coffee beans