iPraktikum: Developing a cooking app with young talents
Reading time for this article: 8 minutes
For more than ten years, BSH has been participating in the iPraktikum program, a practical course offered by the Technical University of Munich (TUM). Computer Science students learn and apply software engineering techniques by developing iOS mobile apps according to the problem statements of clients. We gathered the experiences of the eight international students who collaborated with BSH Werkstatt this semester – together they created a cooking application called "Culinerics".
Get to know the iPraktikum program
In order to be able to present an exciting project idea to the students of the iPraktikum course each semester, the BSH Werkstatt team (the experimental lab for digital technologies at BSH) regularly collects business ideas from the BSH community. Based on certain conditions like business strategy alignment, the most promising idea is chosen. At the start of the semester, BSH and other companies pitch their application ideas and the students get to decide which team to join. 
During the project phase, the project team of BSH Werkstatt has weekly meetings with the students to discuss potential solutions and tasks. These meetings ensure quick progress, which is important in the short project period. Also, both the students and the BSH colleagues get to know new perspectives on topics, tools and systems which help to drive innovations. From the creation of the app's basic concept to the mid-term review and the final client acceptance test, the BSH Werkstatt team is always by their side to give feedback as their customer, but also to consult and support the students.
Some of the former iPraktikum applications have been implemented and are already in use, others gave the inspiration to plan future app development. This semester's application called "Culinerics" provided many valuable learnings and insights. It was an experiment on how an application can change and enhance a family's life at home in the kitchen. After their final presentation, this semester's participating students shared their experiences with us and what they learned during the iPraktikum project in the following interview.
Developing the "Culinerics" app - insights of this semester's iPraktikum students
1.    What is "Culinerics"? Which benefits does the application provide for the consumers?
Culinerics is a family menu planning app that combines cooking, education and entertainment. Through a gamification approach, kids can learn about their meals while parents get inspired to cook healthy, balanced dishes. 
What's special is that you can set up groups, e.g. for a family or a dinner party and invite everyone to set up their profile including their food preferences and allergies. Based on these insights, the app suggests dishes to the host who can select certain meals and let the guests vote on what they want to eat together. Moreover, there's an option to get recipe suggestions based on the ingredients you have at home, or you can also gain new knowledge about food preparation techniques and more.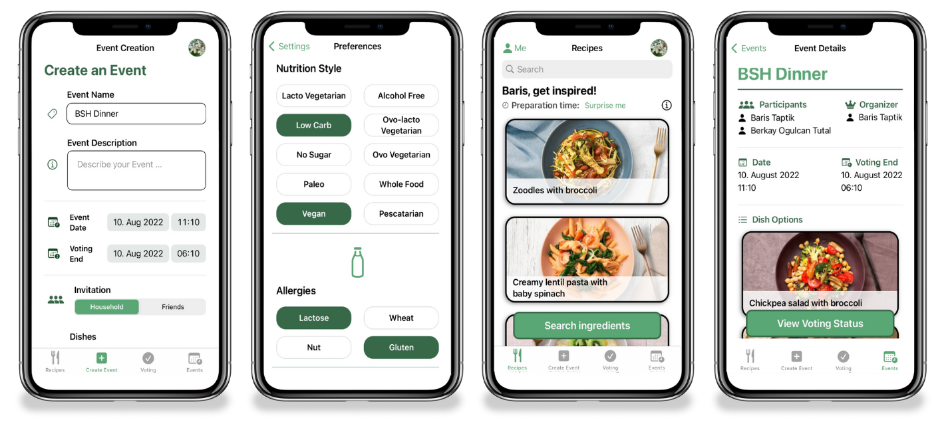 2.    Which challenges did you face during the project and how did you overcome them?
One of the main issues was time. Since we were also occupied by other courses, it was not always easy to find enough time to work on the project, so we had to enhance our time management.
In the beginning, everyone also had different ideas for the app, so we had to create a unified vision and shared goals. This is also connected to communication: We are a very diverse group, so we had to learn how to communicate best and efficiently with one another, but also with our customer BSH.
Moreover, we were not yet familiar with the technology the customer suggested using, so we had to learn more about it in a short time.
3.    How did you experience BSH while working on the project?
As a group, we really enjoyed working with BSH because they provided us with many opportunities. For team building, for example, the BSH Werkstatt team organized a cooking event, so we could get to know us better and discuss the project. We were also able to be creative and include our own ideas in our application. For our presentation for university, we also had to film a trailer and BSH provided us with the location – a beautiful NEFF Showroom –, which was perfect since the environment made our film look more professional.
4.    How did you personally benefit from working on the project?
We definitely deepened our knowledge in software engineering and were able to utilize our theoretical knowledge. It was also great to work with professionals from BSH, increase our networks and profit from their knowledge about user experience and more. It is also an interesting project to talk about at future job interviews. For all of us, it also confirmed that we are on the right career path. Additionally, it helped us to further develop our communication skills and we also learned how to work remotely in a team. 
5.    What are your key takeaways?
Our learnings are quite clear: Never underestimate a feature – in the beginning, you might think that it is easy to implement, but it can be a lot more complex, so you need to stay focused, confident and resourceful. Another takeaway is that you need to make proper documentation which can save you a lot of time in the end.  Also, "communication is key" – you have to find the right ways of communicating and know the other persons and their habits to successfully work together.
6.    Do you think of applying at BSH after your studies? 
We all definitely consider applying for jobs at BSH once we have completed our Master's program and hope for many more exciting projects to work on.