Modular and smart – the future of home appliances
In WirtschaftsWoche's podcast "Chefgespräch", Dr. Carla Kriwet (Chief Executive Officer, BSH) spoke with Editor-in-Chief Beat Balzli about the topics that move BSH. How does BSH's current transformation play into its new sustainability strategy? What is it like to position the company as a thought leader in the global market? And, how will modular and smart home appliances create value for a new generation of consumers in the future?
Balzli: As the head of a globally active profit-oriented corporation like BSH, do you perceive your work as part of globalized capitalism and part of what contributes to problems in the developing world?
Dr. Kriwet: I am definitely part of a business-oriented organization but also a network. I don't see that as a problem, though. It really depends on how you live the values of the company, what you stand for, what workforce you create, where you create it, how you incorporate sustainability in the corporate strategy...
Balzli: BSH's dividends go to the charitable Bosch Foundation. How does this influence these issues?
Dr. Kriwet: That is a positive motivation. The Bosch Foundation is very successful in many areas like innovation, education, and health. The foundation contributes a great deal, especially for young people, including at the European level, and it has a long-term perspective. For me, that was one of the reasons for joining BSH, because you have the opportunity not only to focus on different topics each quarter. When you work for a foundation, company employees can drive issues that are not necessarily profitable in the short term but are the right investment in the long term. You can do that in publicly traded companies, too, but not as easily. The commitment to working for the common good is deeply rooted in Bosch's DNA, and we see that very clearly in the decisions we make at BSH.
Balzli: Speaking of social engagement and diversity: At times in your career, you were the only woman on the management board. How did you deal with that and how did you relate to your male colleagues?
Dr. Kriwet: In my younger years, I was annoyed by the self-assuredness with which it was assumed that I, as the youngest and only woman in the room, should fetch the coffee. However, I was not often discriminated against; those were rather isolated incidents. I have been supported a lot. I think more and more women are coming into the industry. Not fast enough, in my opinion. But it's already changing with training, with self-confidence, with more flexible working models, and thanks to role models from abroad. At the top levels, in particular, too little has been done. At BSH, the proportion of women on the management board is exactly 50 percent. We are very diverse, which is great. It's a good example of how diversity can really benefit us.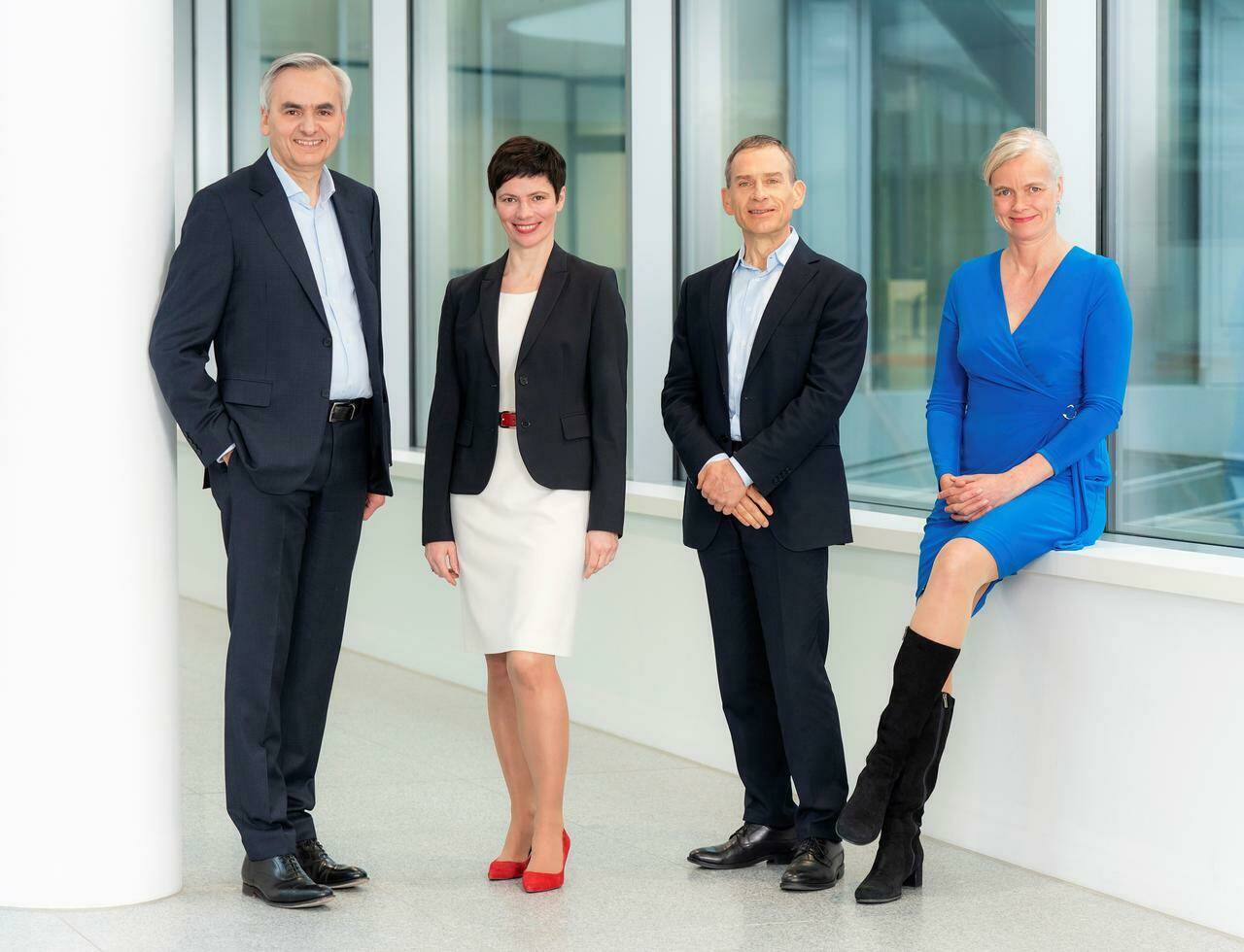 BSH's board of management. From left to right: Matthias Ginthum, Dr. Silke Maurer, Dr. Gerhard Dambach, and Dr. Carla Kriwet
Balzli: What is BSH's current position? How are you preparing for the future, which transformations are already underway, and which are only in the planning stage?
Dr. Kriwet: At the moment, we are gaining market share, also in China, where we are already the biggest non-Chinese player – and number four worldwide. We want to be the leader in many areas, such as sustainability. You can see that with the Cookit Smart Food Processor, for example, which is a very exciting topic. It is the first product that we have really thought of digitally to the end. 95 percent of all Cookit users are digitally connected and actively develop the product further. The production goals for this product were very ambitious, which is why the launch was delayed, but you can see from the ratings that the work was worth it.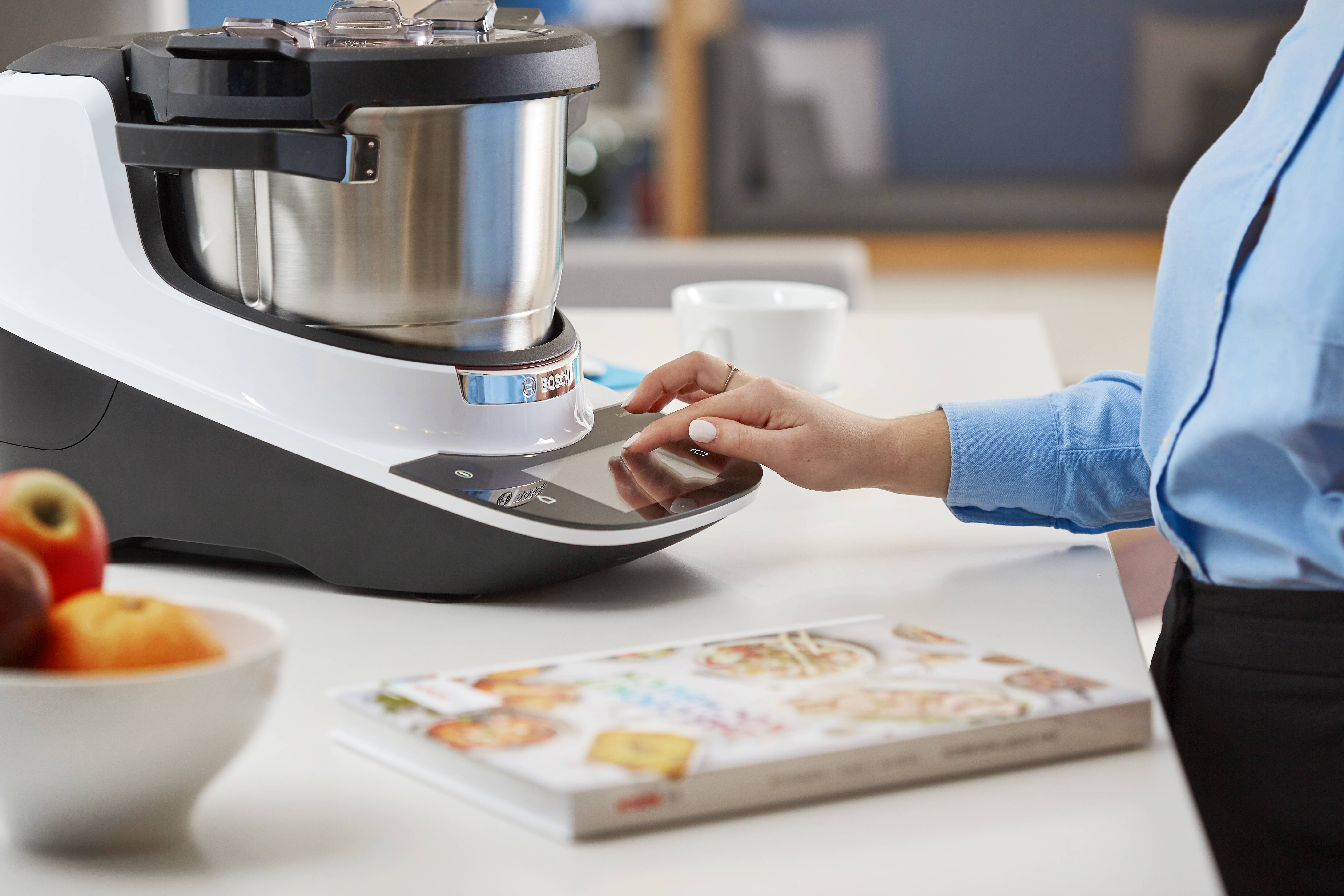 The Cookit is the first BSH appliance to be thought of digitally to the end
Balzli: BSH has continued to show solid growth during the very challenging recent period. To what extent do you want to see further growth, for example, in China?
Dr. Kriwet: Currently, we are very satisfied with our regional setup in China. There is a specific reason for the current positioning: My predecessors invested in China already over 30 years ago. Back then, China did not have the status it has today. For decades, investments were made boldly – not always profitably. As a result, we built up an incredible standing in the market. In China, therefore, we are currently not just a player, but a trendsetter, and a premium company in the luxury sector. Sustainability is also increasingly an issue in China.
Balzli: On the subject of sustainability, home appliance rentals seems to be a promising business branch at BSH. This idea was tested before, but it didn't prove successful. Why do you think it will work at BSH?
Dr. Kriwet: These tests were made by dealers, and it's more difficult for them to do the technical preparation. Right now, at BSH, this is not a business model that already accounts for the majority of sales. But it is certainly a future topic. With the rental model, we are learning, above all, how products have to be designed sustainably. With expert teams, we take a very close look at how we can intervene in development processes and what we need to change to make the devices more modular, so that designs can be repaired more easily. The material mix must be right so that everything can be reused in recycling. There are many starting points along the entire value chain. If we pull this off, the rental model will also become much more popular.
Balzli: So will I eventually be able to order individual parts and replace them myself? 
Dr. Kriwet: That's already a reality. It requires a modular design and smart devices. At the moment, when a device is broken, a technician has to come and first check whether they even have the spare part for the repair, and if they don't have it, they have to go and come back again. That can cost a lot. The future will be different. If the devices are connected, then you can see directly where the problem is. You can look inside the device. You can see how the device has been used. You have an overview of the parts and the wear and tear, and then with simple tutorials, you can quickly help the consumer fix it.
Balzli: So the trend is toward smart home appliances. Is there a broad demand for this or is it still something for tech nerds?
Dr. Kriwet: In this area, but also in other industries, there are many constructed use cases. Clever technologists come up with products that consumers should find great, but they don't correspond to reality. Cool models that you see at trade shows. But there are many more practical examples. For example, when the dryer knows what I've washed in the washing machine and directly suggests the right program. These are very real innovations that offer real added value. Some of them are already on offer, some are in development and are expected to be launched on the market next year or the year after. We're looking forward to that. And it's not just young people who are in favor of this, but also people across generations, because it simply makes their everyday lives easier and more joyful.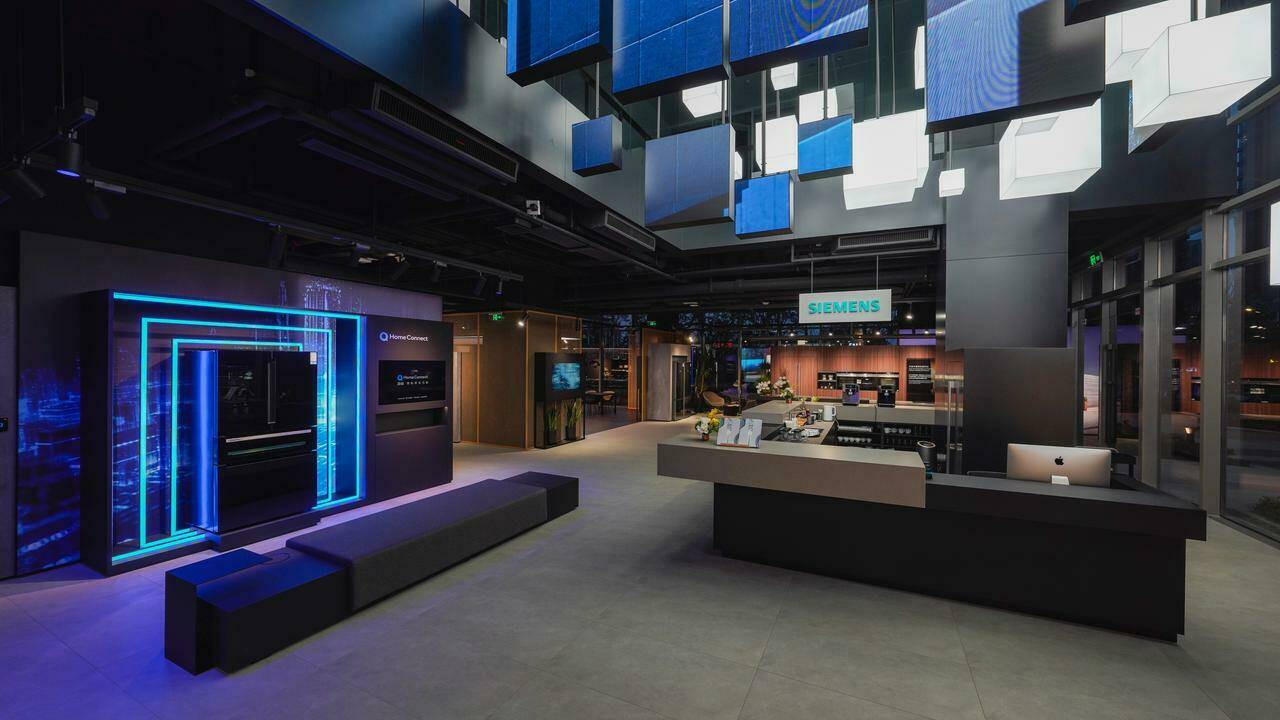 Smart home appliances at a Siemens showroom in Nanjing, China
You can learn more by listening to the full podcast episode here.