Nothing Comes From Nothing: Effortless Communication Is Hard Work
Reading time for this article: 7 minutes
What a fantastic virtual show – BSH's Management Board just held its global Annual Press Briefing (APC) on Tuesday, April 5, with around 100 international media representatives. And all that in about 7 minutes of anchoring, 30 minutes keynotes, 45 minutes questions and answers, as well as a lot of animated slides, pictures and 10 minutes engaging video material. What seems like an effortless performance on screen takes a lot of preparation and effort –from many BSH colleagues around the world and our external service partners. Below, Project Owners Julia Henry (CCM) and Stefan Probst (CCM) talk about the details in a short interview:
As a leading manufacturer of home appliances, BSH has already held quite a few Annual Press Events to present its business performance and key strategic topics to a media audience. Julia, you've been in charge of organizing this event since 2016. Is it a routine event for you, yet?
Julia: One might think, that organizing the APC has become a routine event, which only needs the recent stats and figures, a couple of power point slides, cool videos and a suitable event location. Well, I wished it was that easy! Of course, there is a lot more to it than people can see from the outside. Even though we plan the event many months in advance and everybody knows the drill, it keeps me and my team, and many, many BSH colleagues worldwide – not to forget our Board of Management, the main protagonists – very busy until the very last minute. Think of the volatile pandemic situation and the current war in Ukraine, for example. One can't really prepare any statements for such topics three months in advance. Our messages have to be on point because that's what communication is all about, if you want to provide truly relevant information. 
What were the biggest challenges you had to overcome this year and how did you do it?
Julia: Similar to the previous year, we invited international media from around the world because it was our ambition to make this event – once again –a truly global one. The decision to go virtual was the easy part. More challenging was operationalizing it. For example: All participants had the option to ask their questions live during the livestream – either by text, audio or video – with simultaneous translations in English, Spanish, Polish and Turkish. That was quite a complex task, but definitely worth the effort. 
The biggest challenge, though, was to overcome the differences in time and space. We knew from the start that journalists from the U.S. and Canada would probably not be attending the APC due to the early hour. Also, an unforeseen Chinese bank holiday, which was only fixed after the date for our APC had already long been set, sadly made it impossible for the Chinese-based media to attend. Since we could not find an alternative date – just think of other international holidays, competitor press conferences taking place around this time of year, trade shows, and not to forget, the busy calendars of our Board – our regional communications colleagues decided to invite their local media representatives to timely and targeted separate local press events. They will include the strategic information from our global event – for example, the video keynotes from our management – and enrich it with local information to meet the individual needs of their journalists even better. Looking at all this, I would say, this APC showcased excellent global collaboration. 
Stefan, you have been in charge of coordinating all teams and contents for the event. Which departments did contribute to the event?
Stefan: That's a tough question, because we had lots of support from colleagues around the world. First of all our regional communicators, who did a tremendous job researching and contributing all sorts of information. The same holds true for your controlling, strategy and brand departments – to mention some selected teams of the many involved. Our communications team also worked hand in hand with the event team, to prep for the actual event on April 5, and with several service providers to create exciting videos, animated slides and, of course, the keynote speeches for our Management Board. In addition, the colleagues from Robert Bosch contributed to this event by setting up a comprehensive media-monitoring tool.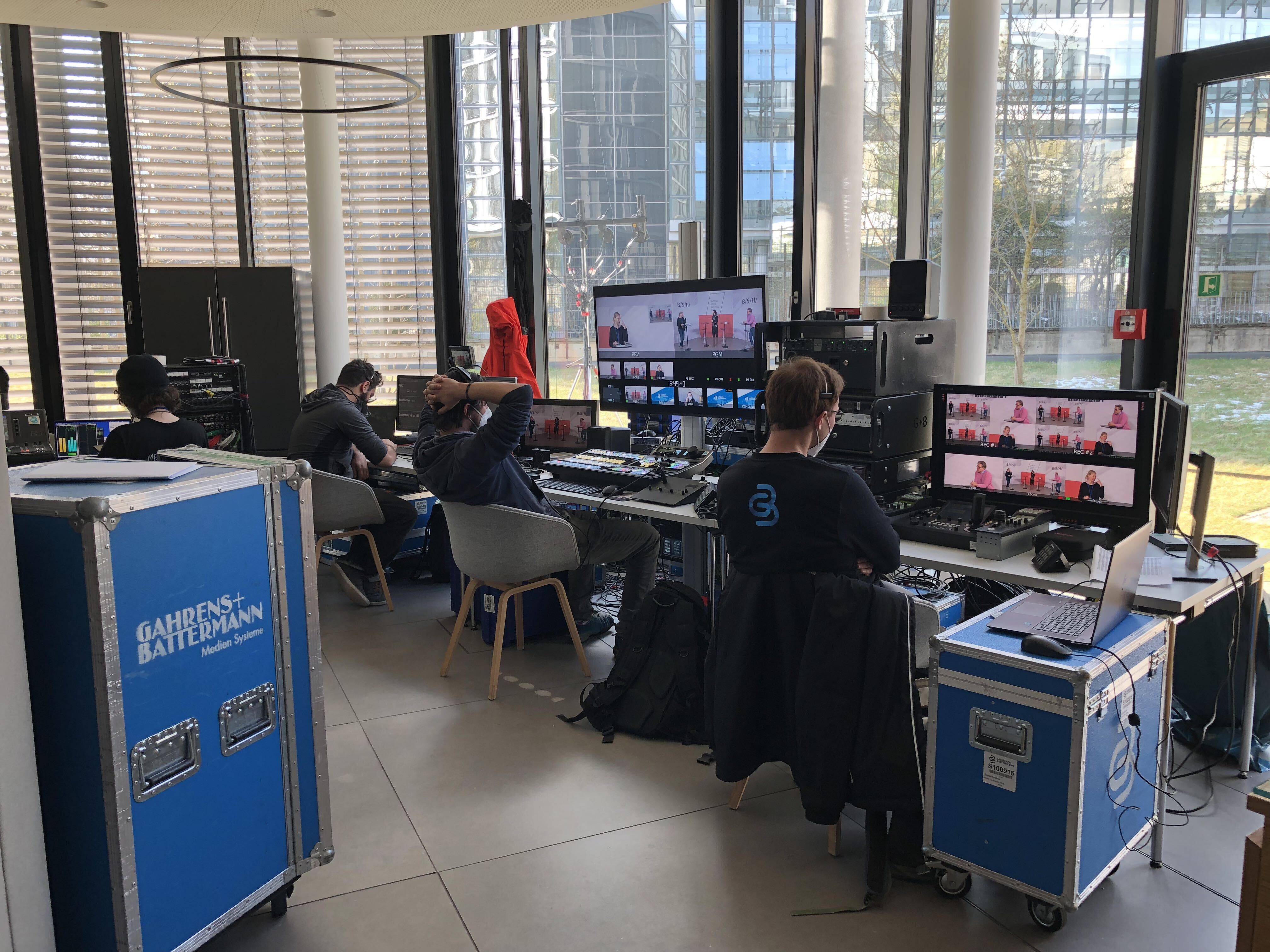 How much effort went into preparing this event, if we are talking numbers? 
Stefan: In terms of numbers: We have our core communications team in Munich with seventeen people, eight regional communications colleagues, several from Controlling & Accounting, Strategy, Purchasing and even colleagues from the global event team contributed to this event. Together with four service provider teams from our PR agency, event agency, video editors, and motion designers, we created a two-hour event in six languages that was viewed by more than 100 media representatives across Europe. Furthermore, we had seven cameras, 500 meters of cables and approximately 50 PCR tests on set to create and maintain safe conditions for everyone on set. 
Folk wisdom has it that 'everyone can communicate'. From your point of view, why does it need a corporate communications department?
Julia: Of course, I know the saying and the associated reservations. While everyone indeed communicates, professional communications teams do a lot more than that. We are the voice of BSH and it's our responsibility that the messages and information from our company are being coordinated – think speaking with "one voice". Furthermore, our key messages must be relevant for different audiences and target groups and actually reach them via the respective communication channels. Thus, we are working similar to a professional publishing house: Our global newsroom team is in touch with all our regional communication colleagues and global departments to stay up-to-date and plan our editorial contents according to the needs of our target groups – and, by the way – both internal and external. That's quite a comprehensive task!
What kind of training do you need for the job?
Julia: Overall, our tasks, communication topics and formats are very versatile. Hence, my team members and I have different educational and professional backgrounds. In general, a corporate communications department needs news editors, project managers, website and photo/video editors, moderators, researchers, technical experts, a spokesperson, crisis and reputation managers and so on. Communications is also a good option for career changers from other fields of work, especially if their background fits the respective communication topics – have some expertise and, most importantly, FUN writing, communicating and working internationally (at least in our global department).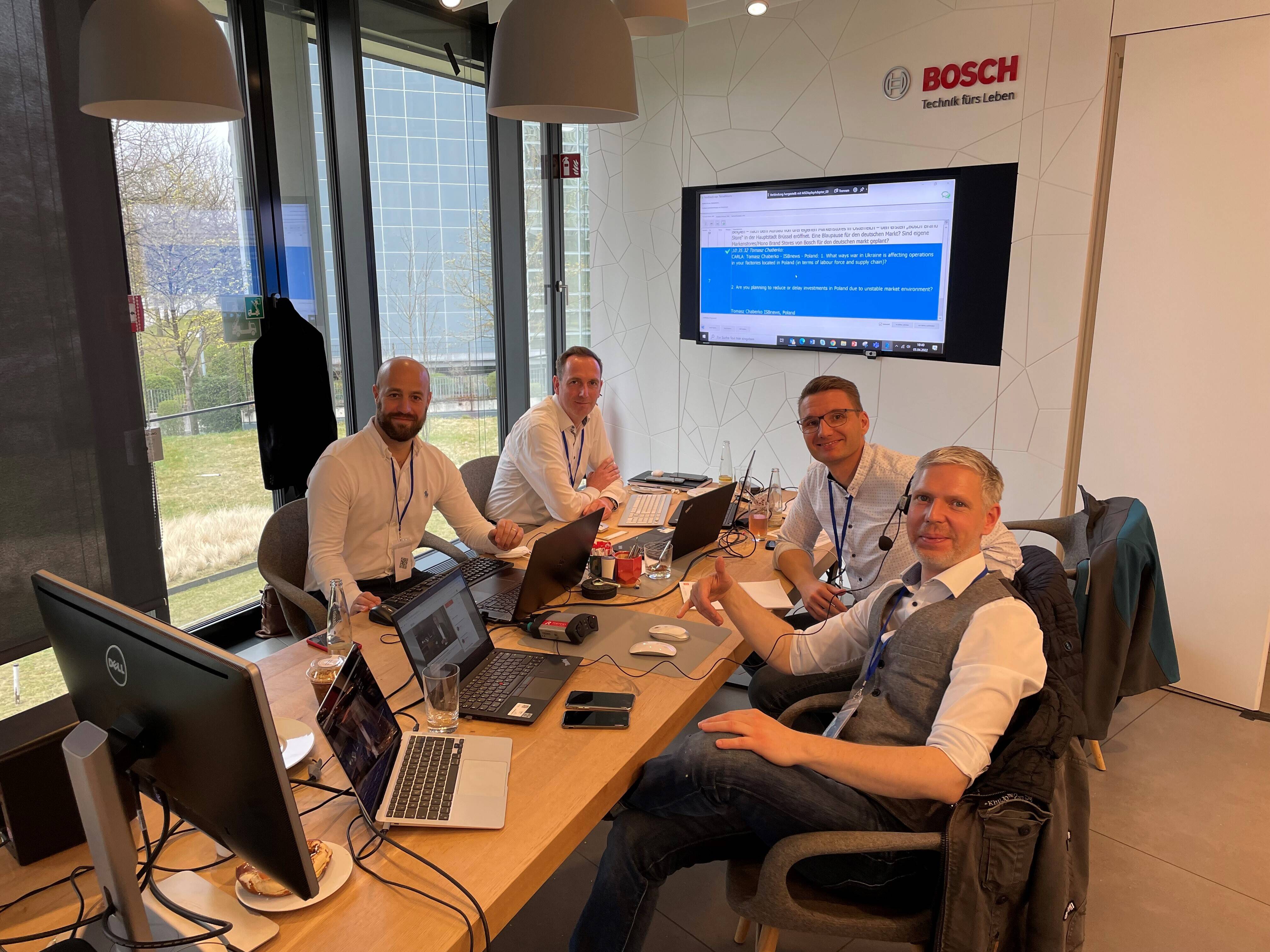 What are three most important individual qualifications for working in a corporate communications department? 
Stefan: Communications is a people business. Thus, good people skills and an open mindset are definitely necessary. In addition, the ability to break down complex topics and engage as well as inspire others are also important requirements. Personally, I think, persistence and patience are a plus, too.
Take a look behind the scenes of the event now
About the Annual Press Briefing
On April 05, 2022 BSH's management presented the results of the fiscal year 2021 and gave strategic business updates in a virtual press briefing. 
Turnover increased by 12 percent to 15.6 billion euros 
Deep dismay and great concern about the current situation in Ukraine 
Sharp growth in all product categories and regions – particularly strong performance in emerging markets in Asia and Africa 
Construction of new factories in Egypt and Mexico 
Strategic focus on digitalization and sustainability 
Lars Schubert new Chief Operating Officer and member of the Board of Management since April 1, 2022 
Click here, to view the complete press release and the video recordings of the APC.