Out-of-the-Box Customer Service in India During the Pandemic
Atul Velhal has been working as a Customer Service technician in Western India for ten years. He knows quite well how to meet local consumer needs, visiting many of their homes on a daily basis. Once the pandemic hit India in 2020, however, these personal visits became a rare exception. Find out how Atul Velhal goes out of his way to keep supporting our Indian consumers despite so many challenges.
What are your daily tasks, and how have they changed during the local lockdowns?
"Among other things, my daily tasks include installing washing machines, dishwashers, refrigerators, and hobs in consumer homes – a personal service that we offer for all large appliances sold in India. I also provide maintenance and repair support for our consumers, usually visiting four or five homes a day. During the lockdowns – the current one started in April 2021 and is still mostly in place – these visits have become scarce. Instead of driving to consumer homes on my motorcycle in person, I now explain the installation process via video call or on the phone, depending on our consumers' preference. I am also able to provide a solution for many consumers who need their appliance to be repaired, especially when spare part replacements are not needed."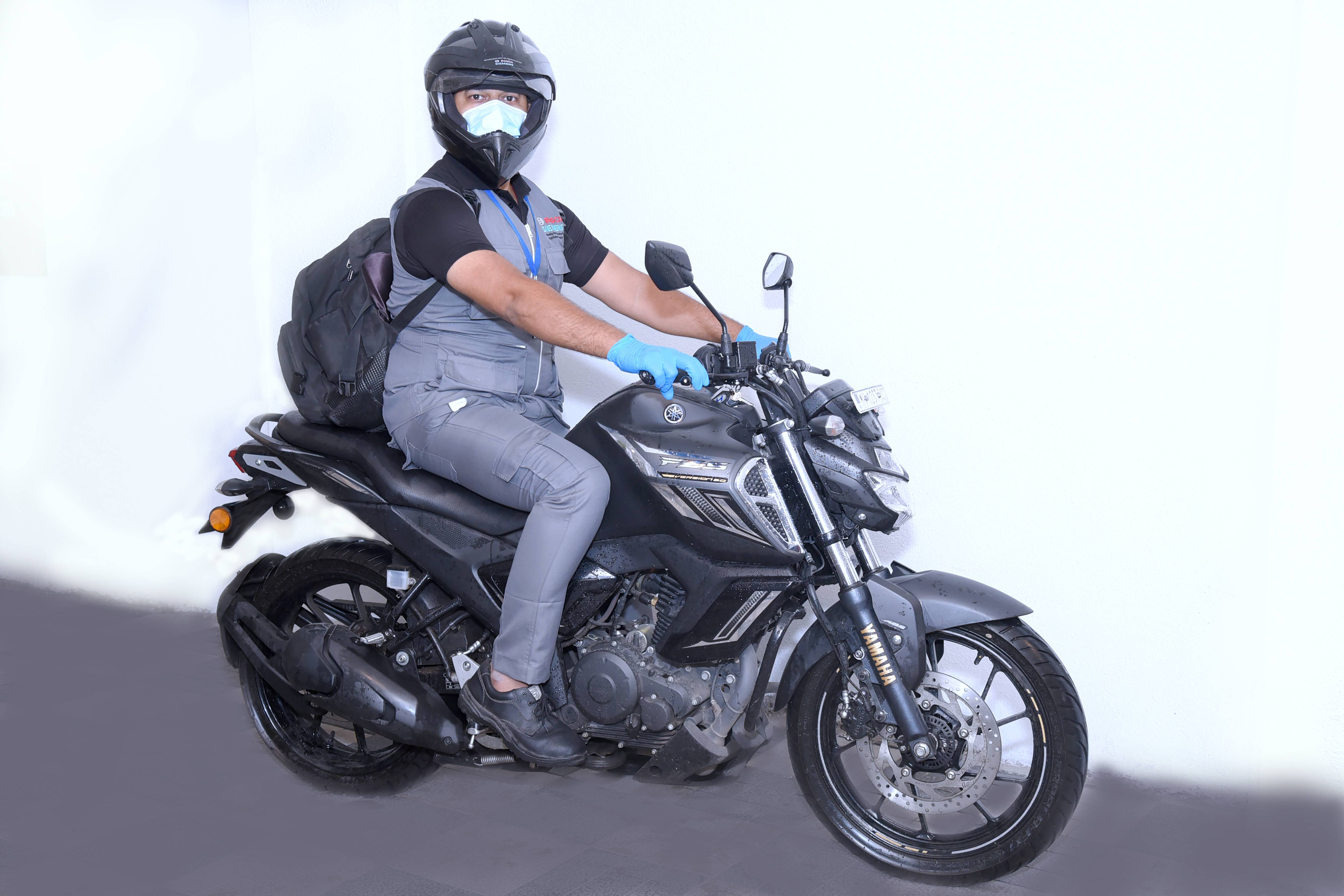 Atul on his way to consumers' homes
How are consumers reacting to these changes, and how do things work in detail?
"Our consumers are used to getting free installation service for their appliances. Doing these tasks themselves is not common in our culture as professional help is affordable. That's why some of them are worried or even upset about having to take over. Of course, I can only guide them with regard to manageable tasks like connecting a water hose or checking the drain of a washing machine. I set up a video call with my smartphone and take them through every single step. Since I don't have all the appliances at my home, I use my iPad to visualize specific components or connections. The local couriers help to dispatch the necessary spare parts wherever needed. That means I can solve four out of ten calls remotely."
What about the other calls?
"Unquestionably, there are tasks that have to be managed by an expert – including problems with a hob or gas connection, for instance. I would never put a consumer in danger by doing risky repairs! That is why my customer service colleagues and I still do some emergency visits to make sure that our consumers can use their appliances for their daily tasks – but only when the lockdown relaxations by the local government authorities allow it, of course. We are equipped with safety gear like masks, gloves, shoe covers, and sanitizer, which BSH delivers to our homes. These physical visits to consumer houses do still hold a risk of infection, so I do certainly feel a bit scared doing my job. At the same time, however, I am very proud to be able to help our worried consumers. Bringing a smile to their faces and helping them out makes me feel that it's worth the risk. I don't know when the lockdown will end completely in all the different country parts and when we will be to freely visit all of our consumers again, but we are all doing our best to make the most of the situation."
 "I am very proud to be able to help our worried consumers. Bringing a smile to their faces and helping them out makes me feel that it's worth the risk."
Speaking of your utmost, which other challenges do you have to master while working during the lockdown? 
"One of the major challenges while doing video calls is certainly the volatile internet connection. We all nevertheless have to become creative, working with hot spots or simple phone calls to help our consumers. Another challenge is the joint family living system in India. I, for example, live with my parents along with my wife, my younger brother, and his wife. The house is very small with one kitchen, one-bedroom, and a living room. Sometimes it's hard to find a quiet space to work. My family supports me very much, though. They keep quiet in the background whenever I'm on a call, and they are my source of motivation during these exceptional and rough pandemic times."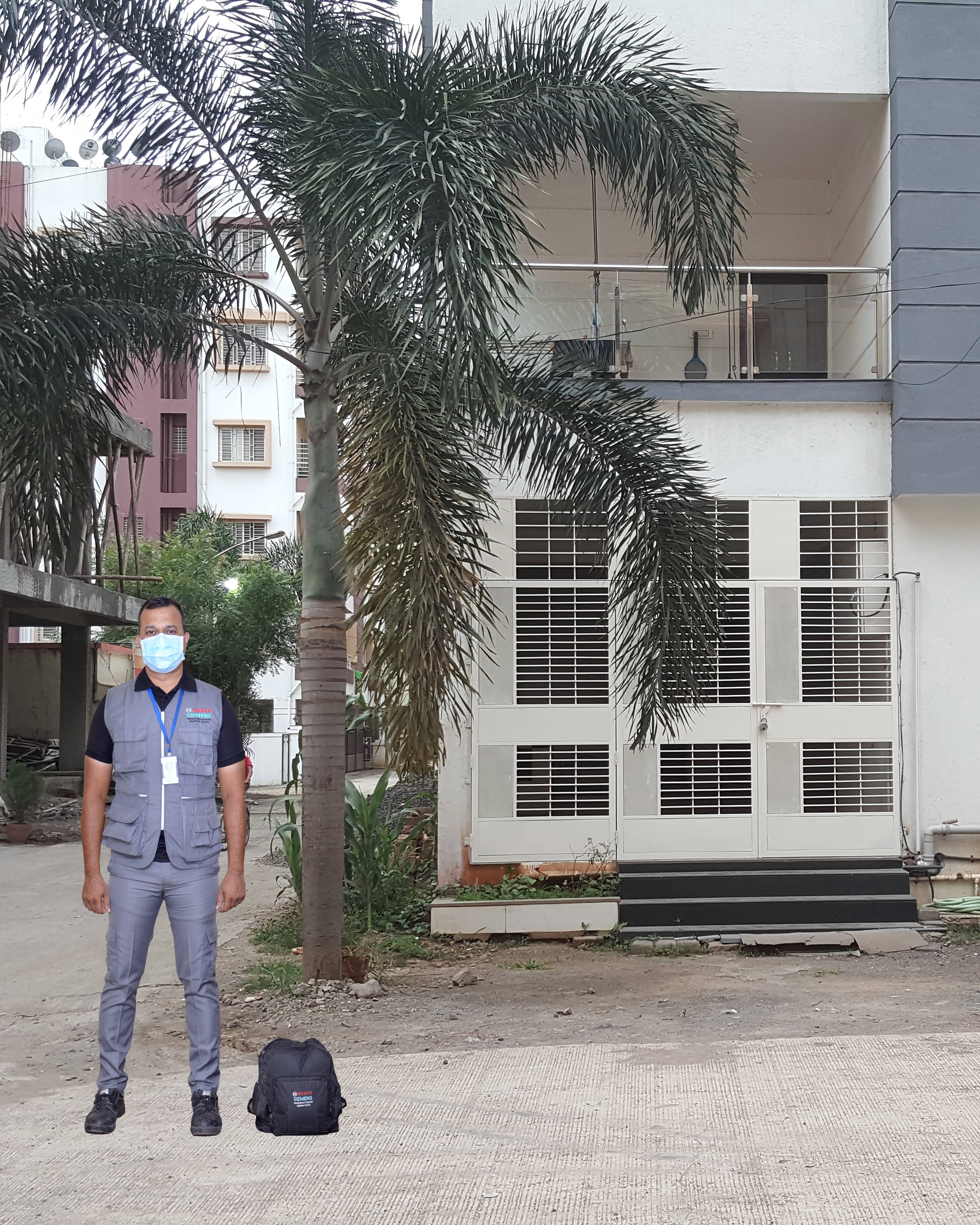 Atul in front of a consumer's house