Easy deliciousness for all seasons and senses
Reading time for this article: 3 minutes
Grab a delicious roasted almond recipe here and "snack on" our story of Michael Mück: A computer scientist, and food aficionado, who works on the BSH brand Bosch's Cookit.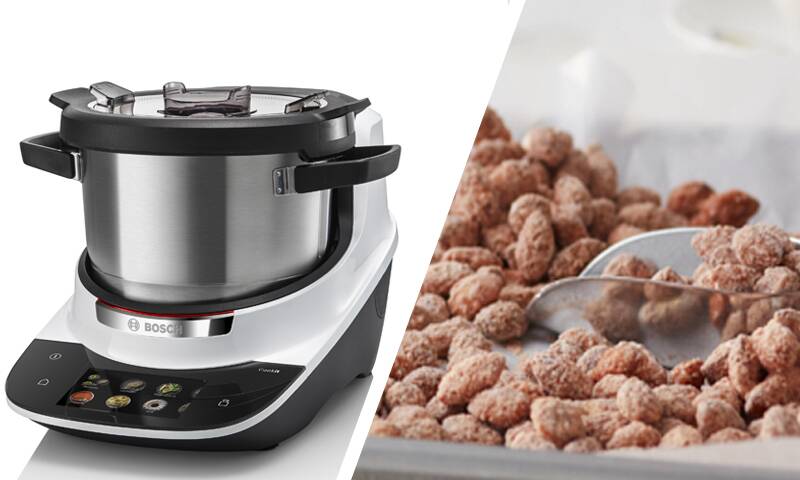 The recipe pool is growing
After going live with 200 guided recipes in June 2020, users can now choose among more than 400 delicious dishes and the number keeps growing.
"To meet the great consumer demand, our agile project team sometimes created and uploaded 30 new recipes per week, instead of the planned five during the last months", says Michael. "By selling the Cookit directly, we are really close to our consumers, who share their feedback on social media and in our online shop. Thus, we can cater to their needs and even prioritize certain recipes upon request." To make this process as fast as possible, the team works with preset building blocks, when creating new guided recipes.
They contain technical information about tool changes, preparation instructions as well as temperature and speed settings for more than 50 cooking processes: everything from caramelizing or whipping. Thus, the recipe developers don't have to start from scratch when testing new dishes. "Some guided manuals only take one or two hours to develop, test and validate, others need one or two days", adds Michael. Developing the guided recipe for roasted almonds only took a couple of hours, for instance.
"To meet the great consumer demand, our agile project team sometimes created and uploaded 30 new recipes per week, instead of the planned five during the last months"
Satisfaction guaranteed
To make sure, that our consumers are completely satisfied with the user-friendliness and results of the guided recipes, they undergo extensive quality tests. The team created standard templates for entering recipes into a content management system, for instance. Once a developer uploads a new recipe into a so-called staging app, the application engineering colleagues in Traunreut, Germany, try it out to see if all steps work out perfectly. "Afterwards, a team of editors checks the recipe terminology and the corresponding pictures before it is released and sent to our consumers via the Home Connect App at the push of a button", continues Michael. And for the rare case that users should experience any difficulties, the team can quickly and easily check and correct possible faults. "It's never been this easy to guarantee consumer satisfaction", Michael highlights. 
"I have loved cooking since I was a child and used to regularly look into my mother's cooking pot. She prepares the best pierogi ever! That's why I am really curious if the guided pierogi recipe that we are working on will come close to her cooking."
If you want to prepare the delicious recipe for yourself, you can either use the Bosch Cookit (only available in Germany and France at the moment) and let the appliance do most of the work, or you can follow the following step-by-step instructions to prepare the dish the traditional way in your pan.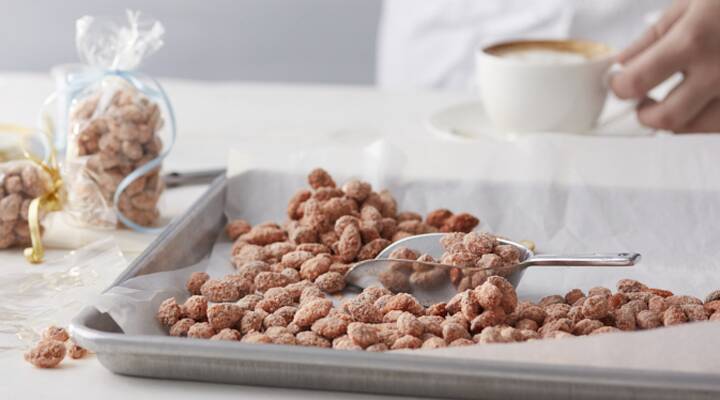 Free Form Recipe for Roasted Almonds:
Ingredients:
100 ml water
125 g sugar
200 g whole almonds
1 tbsp. icing sugar
0.5 tsp cinnamon powder
Baking paper
Preparation:
Combine the water and sugar in a saucepan over medium heat and bring the mixture to a boil before adding the almonds.
Cook and stir the mixture until the liquid evaporates and leaves a syrup-like coating on the almonds.
Pour the almonds onto a baking sheet lined with baking paper.
Separate the almonds using forks and sprinkle them with the icing sugar and the cinnamon powder.
Allow the almonds to cool for 15 minutes.
Enjoy!