Home Connect at IFA: Get More!
Reading time for this article: 5 minutes
For unprecedented sustainability and efficiency, Home Connect-enabled appliances will soon be powered conveniently with self-produced and saved solar energy. Our Home Connect enabled appliances will work seamlessly with Enphase Energy – a global energy technology company and the world's leading supplier of microinverter-based solar and battery systems – to provide sustainable and efficient home appliance solutions. Visitors to IFA 2022 can learn more about the partnership and experience many of the smart functions offered by Home Connect.
Efficient Appliances Powered by Clean Energy
As energy prices soar, rising living costs are a major concern for consumers today. Home Connect enabled home appliances are becoming ever smarter thanks to the integration of digital solutions and services from new digital Home Connect partners, providing more convenience in everyday life. The new global collaboration between Home Connect and Enphase Energy – a global energy technology company and the world's leading supplier of microinverter-based solar and battery systems – will demonstrate this by enabling consumers to power their home appliances in a smart, clean, and highly efficient way.
Full Control Over Self-Produced Energy
Home Connect and Enphase are giving full power to the user. To benefit from optimizing their energy usage, users need to link both systems in the Enphase App. Home Connect enabled appliances will then be available in the Enphase App, allowing smart energy automations then to be set up conveniently by consumers for connected dishwashers, washers, dryers, and washer dryers. This opens up new opportunities for customization while optimizing energy usage in the smart home. In the Enphase App, users will be able to select the connected appliance, the preferred program, and a timeslot in which they want to start the appliance. Using smart schedules, the appliance will be directly powered on sunny days with solar energy, enabled by Enphase microinverters. On cloudy days consumers will also be able to use the saved energy from the Enphase IQ Battery, the company's home battery storage technology.
"Thanks to the cooperation, the Home Connect enabled dishwasher, washer, dryer, and washer dryer will have the ability to be started automatically at the most economic time with clean energy. This makes the household of our users more sustainable", underlines Stefanie Lipps, Managing Director Home Connect.
As the Enphase app provides transparency over the generated, consumed and saved energy, users will be in control of their own energy usage. That is even more advantageous given the significant increase in energy costs. By producing and using solar energy, consumers are not only helping the environment but also promoting their independence from rising costs by energy suppliers. "Consumers today are more motivated than ever to make sustainable lifestyle decisions and take control of their energy use. With a few taps on the Enphase App, households will be able to save money, run on energy from the sun, and enjoy greater convenience in their daily lives," says Gokul Krishnan, Vice President of Business Development at Enphase Energy.
Consumers can learn about some of the new functions at IFA 2022 in Berlin. This year, for the first time since 2019, after two years of being a virtual event, IFA will be again accessible to business partners and consumers on site. "Get More!" is this year's motto for Home Connect: more value, more ways of control, more sustainability and more joy! Visitors to IFA 2022 in Berlin can experience new perspectives in the dynamically growing ecosystem of Home Connect. The Home Connect booth includes exhibits and information on the new collaboration with Enphase.
Here are some of the showcased Home Connect features at IFA 2022 at a glance:
Detergent Scan
As easy as taking a picture: Consumers simply take a picture of the barcode on the back of the detergent bottle. This way i-Dos is set automatically and optimally to save precious water and detergent. Consumers no longer need to think about dosing strength or water hardness and can avoid manual configuration. Detergent scan enables consumers to have an overview of which detergent and softener they are using and can help to easily assign them to the right i-dos chamber. Also, the consumer receives a notification if the consumable in the chamber is running low (approx. 3 cycles left). That way they have peace of mind that they never run out. Last but not least, the consumer can find helpful tutorials on some usage and maintenance topics, such as switching chamber contents or cleaning the tray.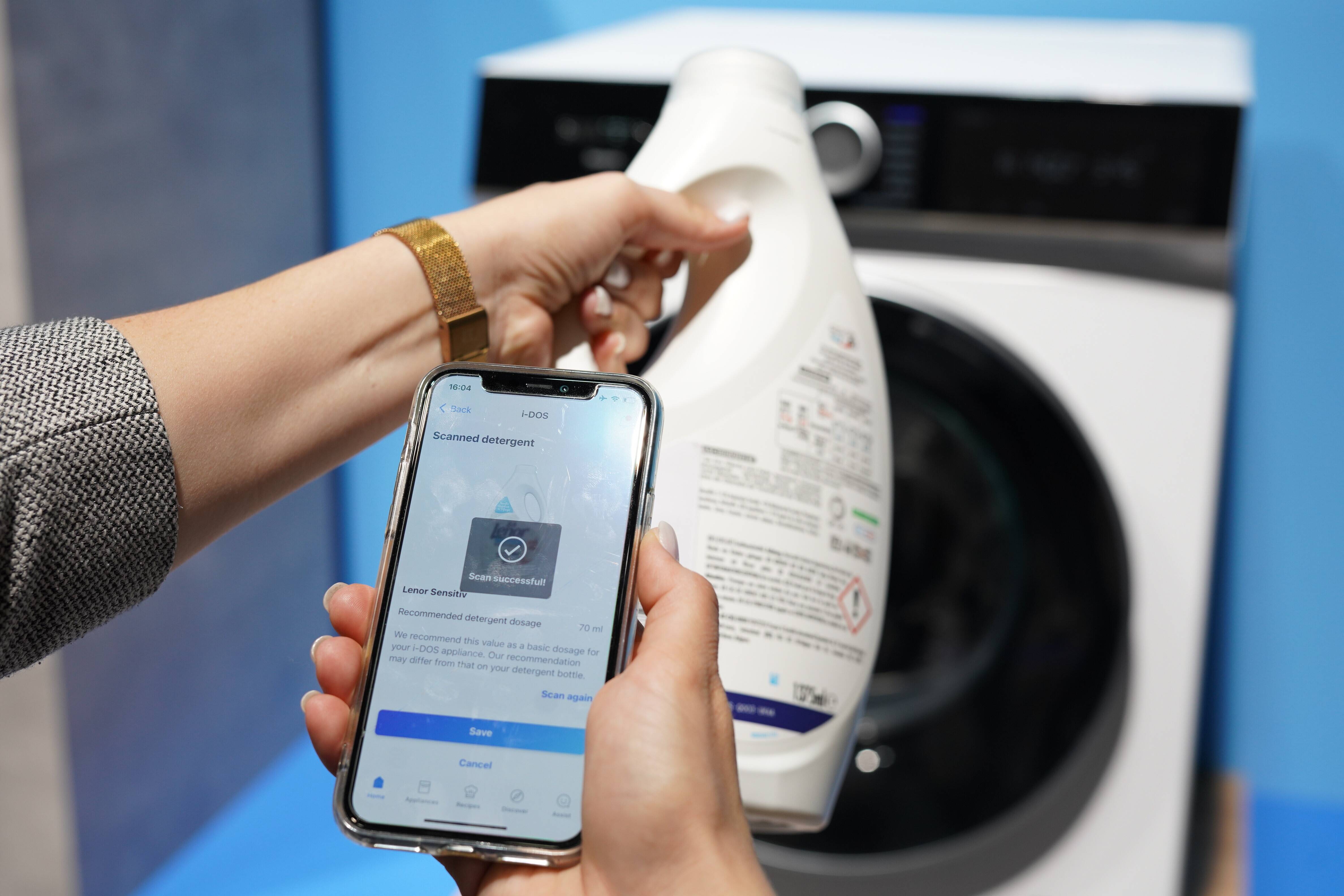 Recipes Based on Stock
Consumers often want to cook something right away with ingredients that are available at home so that they do not need to do any further grocery shopping. With recipes based on stock our consumers get inspiration only from recipes where a majority of ingredients are available at home. Don't waste food with Home Connect!
Learning Dishwasher "Intelligent Program"
Learning Dishwasher is a concept that offers a new consumer experience: to fulfill individual consumer needs in terms of performance the appliance is self-optimizing the program cycle based on consumer feedback. Thus the whole performance potential of the dishwasher can be exploited.
Click here, to find out more about the Learning Dishwasher.