Meet the Inventor of the First Dishwasher: Josephine Cochrane
Reading time for this article: 6 minutes
Today, we celebrate the inventor of the first dishwasher: Josephine Cochrane, who filed the first patent in 1886. We also looked into our past and summarized some of our own milestones in Dishcare.
Josephine Cochrane, an affluent housewife from Shelbyville, Illinois, loved to bring people together. She and her husband William, a well-connected businessman, were known for throwing fancy dinner parties at their mansion. The only problem, Cochrane noticed, was the fragility of their heirloom china. The family's servants often chipped the precious dishes while hand-washing them. There must be an alternative, she thought. Coming from a family of engineers, Cochrane started envisioning a machine that could do the job faster and safer.
"If no one else invents the dishwasher, I'll do it myself," she supposedly said, at a time when women were rarely allowed to be inventors.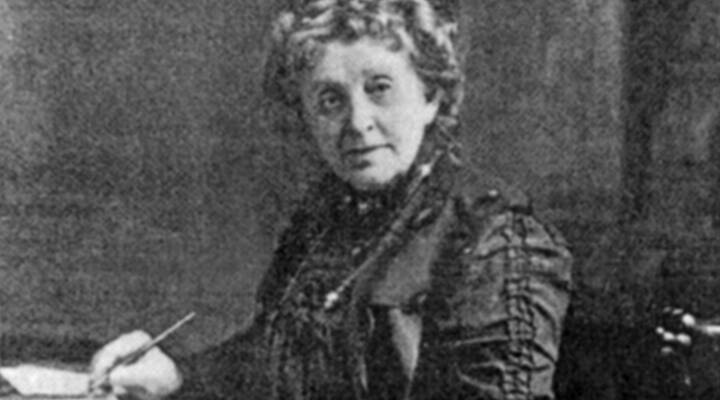 Josephine Cochrane, the inventor of the dishwasher



It was in late December 1886, when Cochrane, by then 47 years old and a widow, patented the world's first effective dishwasher. A couple of men had tried to construct similar machines a few decades earlier, but they failed. Cochrane's invention – designed in her backyard shed – consisted of a wooden wheel that lay flat in a copper boiler. A motor turned the wheel while the dishes, fitted in wire compartments, were sprayed with hot soapy water. The machine was loud, rather inconvenient in its handling – but it worked. Cochrane's public breakthrough came in 1893 at the World's Fair in Chicago, when she won the highest award for "best mechanical construction, durability and adaptation to its line of work". Hotels and restaurants in Chicago started showing interest in her invention; Cochrane's business became a phenomenal success. It was not until the mid-20th century, however, that dishwashers became so affordable and practical that they caught on with the general public.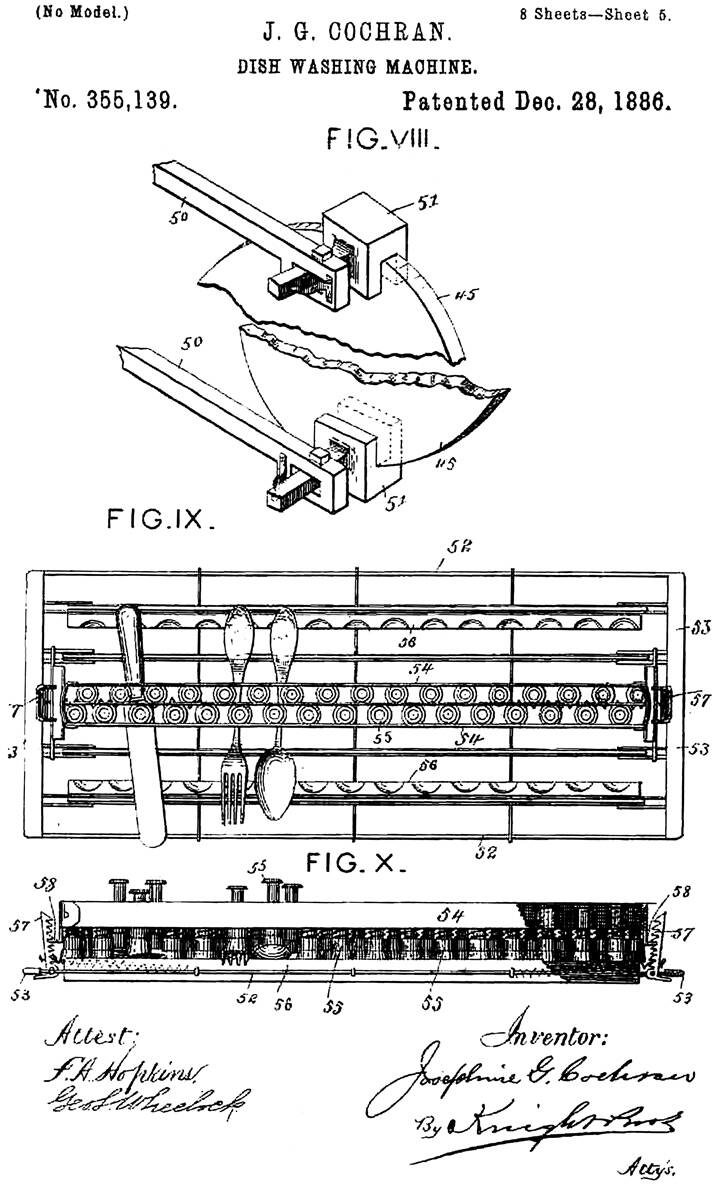 1886: Sketches of the world's first effective dishwasher
The slow triumph of an invention
If you are sometimes struck by how quiet, energy-saving and reliable dishwashers are nowadays, then you're probably old enough to remember when they were so noisy that you couldn't really have a conversation over their loud rattles and squeaks. Nor could you leave the home while the dishwasher was running; the technology wasn't advanced enough, yet, and water damages were too much of a risk. The invention of the dishwasher may have changed the domestic sphere forever – but it's not long ago that their users had to keep a cautious eye on their machines.  

BSH has played a major role in changing that. The company has developed numerous technological features and functions over the last 50-plus years in order to improve their machines and make consumers' lives easier. As a result, dishwashers have become commonplace in many Western countries. In Germany and the United States, the two biggest markets, around 70 percent of all households own one. Yet, in other industrial areas, dishwashers are still a rarity. In Taiwan, for example, the dishwasher market penetration rate is only three percent due to a different culture regarding family "duties", as well as concerns about kitchen space. On that front, things are shifting, too. Furthermore, the coronavirus pandemic has increased the need for cleanliness and sterility, also increasing the demand for dishwashers in countries such as India since early 2020, for example.

But first, let's look back at the technology's evolution. For a long time after Cochrane's invention, only the food-service industry and wealthy people were able to make use of dishwashers. Working-class families and even most middle-class families, however, could neither afford a machine nor the amount of hot water, soap, and robust indoor plumbing systems required to run it. The first attempts to establish the dishwasher as a mass-market object in Europe collided with the stock market crash of 1929 and the ensuing Great Depression. Thus, the dishwasher remained a niche product.
Under the counter, over the moon
It was the so-called Wirtschaftswunder – the rapid reconstruction and economic growth in post-war Germany – that laid the groundwork for popularizing the dishwasher on the continent. Corporations were able again to invest in new technologies, and consumers able to spend money on home appliances. In addition, more and more women entered the job market. One of the key challenges during that time was to find ways to reduce the amount of housework. Working mothers benefited from technological developments, gaining time to spend with their children or on leisure activities, instead of washing dishes by hand.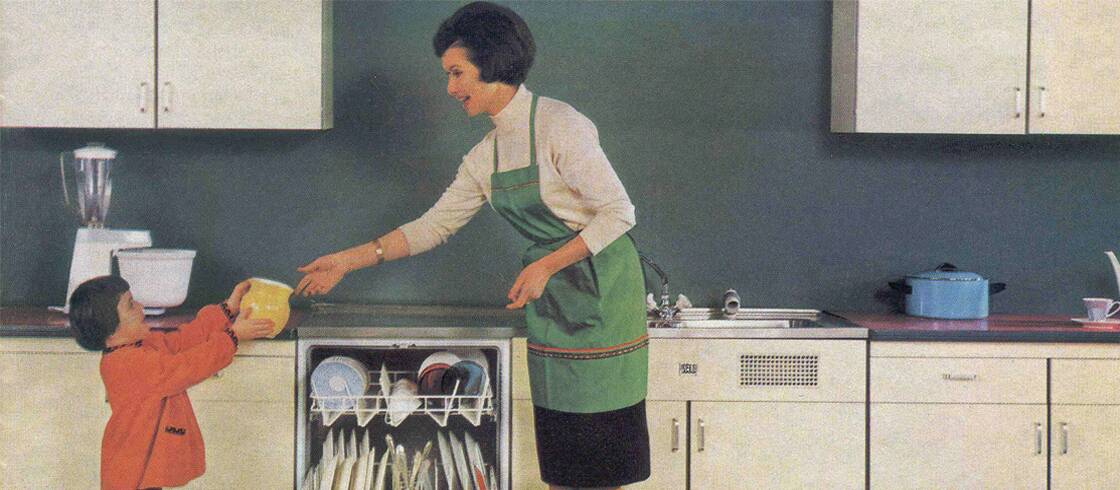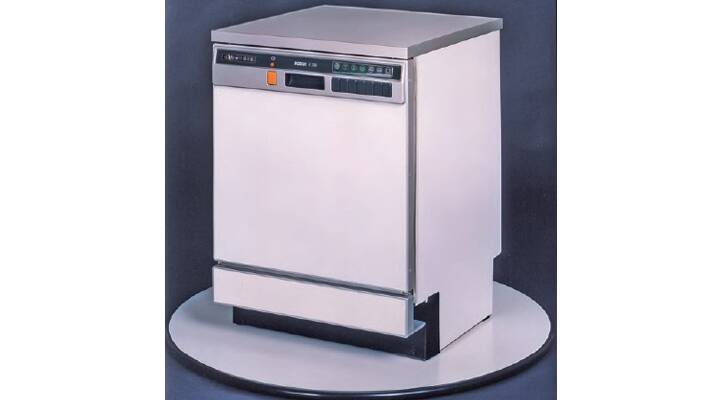 1977: BSH introduces the first under-the-counter dishwasher


One of the most urgent problems that had not yet been solved, however, was the risk of water damage. According to the manual, consumers were still obliged to supervise their dishwashers, and the faucet had to be turned off once the washing cycle was finished. These inconveniences came to a welcome end in 1985, when BSH introduced AquaStop, a one hundred percent protection system against leaks. The demand exceeded all expectations, and it took only a year for AquaStop to become standard technology, even in machines built by other manufacturers. AquaStop was so secure that BSH announced a guarantee for its products in 1987. It remains a core element of today's dishwashers.



                                                        1985: Siemens and Bosch equip the first dishwasher with AquaStop


Faster, smarter, greener

The next generation of dishwashers broke further ground, not so much in terms of technological innovation, but in adapting to societal shifts. Given the rise in one-person households in Germany and the U.S. and the fact that kitchen space was often limited, the market for small home appliances was steadily rising. BSH's answer: a dishwasher that measured just 45 cm in width, palpably more slender than its 60 cm wide sibling. It was especially energy-efficient in term of its washing ability thanks to its integrated heat exchanger and instantaneous water heater. Additionally, the so-called Lady Plus 45 was equipped with a timer function that allowed the machine to be set to start later, and a fast program that needed only 29 minutes. Dishwashing became more flexible, echoing many people's lives in that era. Despite the name, however, it was not only "ladies" who had more time for their families, friends and hobbies, but also men.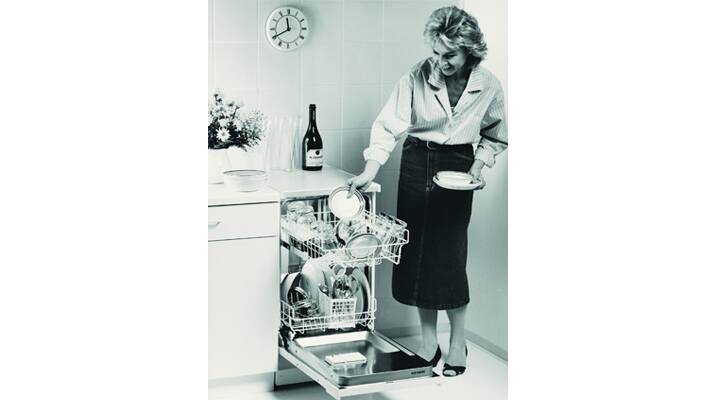 In the 90s, the question of sustainability came to the forefront even more. What are the best ways to save water? How do to reduce power consumption? Dishwashers needed to be smarter. In 1993, BSH introduced an option for using only the upper washing level for a smaller load, which not only met the different consumer needs – from a Sunday dinner with the extended family to a coffee service for two – but also decreased water consumption. This innovation was followed by the AquaSensor system, a feature that enabled the machine to automatically adjust the cleaning process depending on the degree of dirt in the water. The AquaSensor, integrated in the new GV630 dishwasher series, helped to save around 20 percent of the washing water. Another improvement came with VarioSpeed, an on-demand function, which – as the name already suggests – came in handy when speed was needed. Thanks to VarioSpeed, consumers could accelerate the cycle time by up to three times, easily adapting to unexpected changing plans. Peak consumer-friendliness was then achieved with the GV634, which combined all the previous sensor innovations in one fully automatic dishwasher.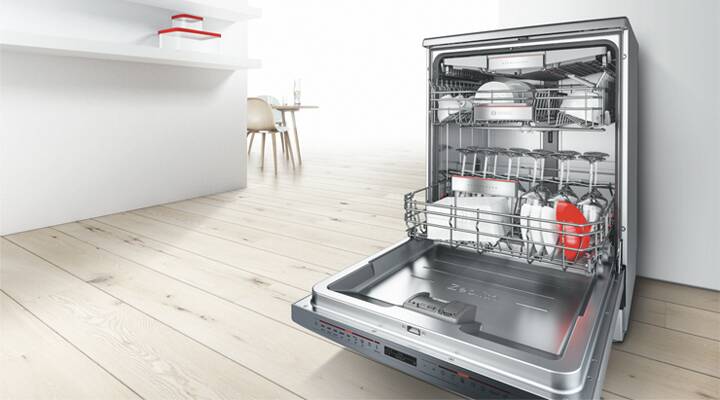 When it comes to consumers' needs and expectations, it's fascinating to look at countries where only a small percentage of the population owns a dishwasher. Why, for example, is it that an otherwise tech-savvy place like Taiwan has been relatively hesitant to buy dishwashers? It's definitely more than a lack of information or concerns about kitchen space, as a local BSH team found out.  Many Taiwanese people, especially women, regard seeking help with household chores as a sign of weakness. Asked about dishwashers, many said that they fear a certain loss of face. To address this issue, BSH created the emotional concept "Your family deserves your time, your dirty dishes don't!", emphasizing the time-saving benefits for families. As a result, some barriers have already started to break down and the demand for dishwashers in Taiwan is growing. 
New urgencies, changing cultures
In 2020, a different factor has come into play: the coronavirus. Since the outbreak of the pandemic, especially Asian countries such as India, China and Japan have seen an increased demand for dishwashers. More and more consumers have decided to invest in one, given that the water temperature in the interior reaches 70 degrees Celsius and therefore destroys 99 percent of all germs – a temperature that hands certainly cannot withstand!  As a result, the debate about whether hand or machine washing is cleaner might finally be over. 
Since Josephine Cochrane invented the first effective dishwasher in her backyard shed, the appliances have come a long way, becoming an invention that changed many consumers' lives. 

And the future? Dishwashers will no doubt become smarter and more connectable. And perhaps even more environment-friendly, if that's possible. They'll adapt to individual habits and needs, ranging from cycle times to special programs or technological innovations that we can't even think of, yet. And maybe one day they will be able to move and clear up dishes from the table. Sounds impossible? Just imagine if Josephine Cochrane could see today's dishwashers…